Rejuvica Health Nocturest Review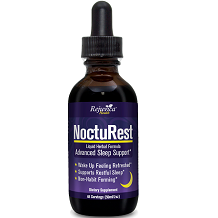 Insomnia can be a very frustrating condition to live with. No matter how much a person with insomnia tries, they do not get enough restful sleep in order to function at their optimum. Without enough restful sleep, a person faces the next day tired, unfocused and often very irritable. This review examines Rejuvica Health Nocturest – which undertakes to help obtain restful sleep and wake up feeling refreshed.
Ingredients
Melatonin
Magnesium citrate
Valerian root extract
Passionflower extract
Hops
Chamomile
Melatonin is a natural sleep hormone it functions in the brain. It has been implicated in controlling the sleep-wake cycle. The levels of melatonin increase when the body experiences stimulus from sleep, such as darkness. This supplement delivers more melatonin to help induce sleepiness. Theanine works in similar pathways in the brain. It acts as a neurotransmitter on the neurons controlling feelings of sleep. Magnesium, in the form of magnesium citrate also acts on neurons. It is involved in the natural functioning of the neuron and helps to stabilize their function. Valerian root extract, passion flower extract, lemon balm, hops and chamomile are all natural remedies which have been used extensively to treat sleeping disorders.
Dosage
This supplement comes in a liquid form and must be taken orally thirty minutes before bedtime. The dosage suggested by the manufacturer is a quarter of a teaspoon, which is about 0.05 fl oz. This dosage is quite difficult to measure accurately.
The amount of melatonin in one dose is 3 mg. This is a fairly low dosage. In fact, as much as double that dosage has been proven to be more effective.
Possible Side Effects
No specific side effects are known to occur with the use of this product, but pregnant and nursing women are advised to consult a physician before the use of this supplement. Others who take chronic medication, suffer from a heart condition, or other serious medical conditions are also advised to consult a physician before use of this product.
Price
One bottle of Nocturest can be purchased online for $34.00. A discount is offered for buying multiple bottles at a time – two can be bought for $60.00 (a saving of $8.00) and three can be bought for $86.00 (a saving of $16). One bottle contains 2 oz of Nocturest, which is roughly 48 servings, according to the manufacturer. Shipping of the product costs $29.95 and the product should arrive after about three working days.
Guarantee
Rejuvica Health offers a full refund on the product, used or unused, if it is returned within sixty days of purchase. However, the manufacturer recommends testing the product for at least thirty days before deciding if it is effective or not.
Conclusion of Our Rejuvica Health Nocturest Review
The ingredients in Nocturest are all clinically proven to assist in promoting restful sleep, but the dosage of melatonin in one serving is quite low compared to the recommended dosage 5-6 mg. The method of administering the supplement is also not ideal because the dosage is not precise and although the manufacturer claims a bottle contains 48 servings, dividing the total amount by the daily dosage returns that it only contains about 43 servings. Fortunately, the manufacturer does provide a 60-day money back guarantee so that a person can try the product for themselves, especially since there are no customer reviews provided by the manufacturer.
Top investigative research brought to you by the experts at Customer Review.