Eu Natural Vibrance Hair Vitamins Review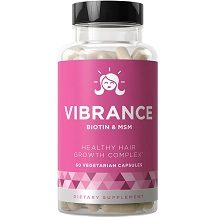 Read our review below about Vibrance Hair Vitamins. It naturally promotes healthy hair by revitalizing it from the inside. It works at the root cause of unwanted hair weakness and the causes of thinning for vibrant looking hair. This formula doesn't contain any toxins or unnatural ingredients which are often very harmful to hair. It also improves vibrancy, length, and strength.
Ingredients
Manganese – Makes hair look revitalized and counters shedding.
Zinc – Prevents hair loss.
Iodine – Reverses hair loss.
Iron – Assists with the repair and growth of cells in your body, including the stimulation of hair growth cells.
Pantothenic Acid – Balances hormones and protects the pigmentation of hair follicles.
Biotin – Plays an important role in the health of your hair.
Vitamin B12 – Assists with carrying nutrients and oxygen to hair follicles and scalp.
Folate – Responsible for healthy cell growth.
Other ingredients found in this formula are vitamin B6, niacin, riboflavin, thiamin, vitamin E, vitamin D, vitamin C, OptiMSM, bamboo extract, L-cysteine, L-methionine, PABA, inositol, choline, boron, Bioperine and a nutrient enhancer. Other inactive ingredients included in this formula are rice extract and cellulose.
Even though there are many quality ingredients included in this formula, we feel that it does lack a few key ingredients when it comes to addressing the triggers of hair loss and providing critical nutritional building blocks for improved hair health and renewed hair growth. Ingredients that we found to be missing in this formula included saw palmetto, vitamin A, Borage Oil, Fo Ti, Ginkgo Biloba and sam palmetto. These ingredients can activate strengthening compounds in order to stop hair loss and rejuvenate hair follicles. It can further also improve circulation and scalp blood flow.
This formula contains Vitamin E in the d-Alpha Tocopheryl Succinate form. We experienced that the most effective form of Vitamin E for healthy hair is Tocopheryl Acetate.
Dosage
Two capsules should be taken once daily with a meal. For best results, it should be taken for at least 8 weeks.
Possible Side Effects
Your physician should be consulted before you start using this product if you are pregnant, nursing or on any prescription medication. It should also be kept out of reach of children.
Price
60 capsules can be bought for $29.99. They are currently offering a $10.00 discount, as the product used to sell for $39.99. If you become part of their Wellness Club, a further 10% discount is offered with one bottle selling for $26.99
Guarantee
The manufacturer offers a 90-day money back guarantee. If you are not completely happy with your purchase it can be returned for a full refund. The offer is still valid even if the bottle is empty.
Conclusion Of Our Vibrance Hair Vitamins Review
After we reviewed this product, we found that it might be an effective product when it comes to supporting healthy hair growth. It can improve your hair's vibrancy, length, and strength. We find it quite impressive that the manufacturer offers a 90-day money-back guarantee. This offer is valid even if the bottle is empty. This gives the client the chance to really find out whether the product works for them or not.
We do find it a bit concerning that there are a few key ingredients missing in this formula and that the most effective form of Vitamin E for hair growth is not used.
Top investigative research brought to you by the experts at Customer Review.