Serovera's SEROLIFE Probiotic Review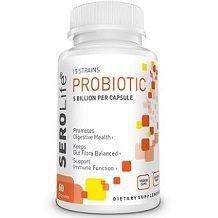 The following article is a comprehensive review of a product called Serovera's SEROLIFE Probiotic. The manufacturer claims that SeroLife is a daily probiotic supplement that delivers a boost of "beneficial" bacteria to where your body needs it the most. SeroLife Probiotic offers you 5 billion live bacteria per capsule and 15 probiotic strains to help your internal fauna stay balanced.
Ingredients
Lactobacillus reuteri
Lactobacillus fermentum
Lactobacillus casei (L-casei)
Lactobacillus gasseri
Lactobacillus plantarum
Lactobacillus longum (B. longum)
Lactobacillus rhamnosus (L. rhamnosus)
Lactobacillus salivarius
Bifidobacteria Genus
Bifidobacteria lactis
Bifidobacteria infantis
Bifidobacteria longum
Bifidobacteria bifidum
Bifidobacteria breve (B. breve)
Streptococcus Genus
Streptococcus Thermophilus
Lactobacillus acidophilus is one of the most common types of probiotics and is a bacteria found in your intestines. Lactobacillus plantarum is an antioxidant and is commonly found in many fermented products such as pickles and brined olives. Bifidobacteria are one of the major genera that make up colon flora in mammals and Streptococcus thermophilus is a fermentative facultative anaerobe and is also classified as lactic acid bacterium found in fermented milk products and is generally used in the production of yogurt.
Dosage
Take two tablets daily, once in the morning at least two hours before a meal or two hours after a meal.
Possible Side Effects
The manufacturer does not provide any cautions or warnings to ensure that this product is used safely.
Price
You can purchase a 60 capsule bottle online directly from the manufacturer's website for $31.96. There are bulk ordering discounts as follows; buy two bottles for $28.80 each, three bottles for $25.60 each and six bottles for a significantly lower cost of $22.66 each. U.S. domestic shipping costs $8.50 per order and there are no free shipping options at all provided by the manufacturer. There are no additional incentives for new customers or additional discounts.
Guarantee
The manufacturer offers a 90-day product return policy on closed/unused products only. You must return the product along with the original receipt in order to qualify for a refund. Shipping and handling costs are subtracted from any refund.
Conclusion of Our Serovera's SEROLIFE Probiotic Review
On the plus side, we liked that this product contains a formidable list of probiotic ingredients that may prove beneficial to creating a more balanced internal fauna. There is a 90 guarantee and return policy. There are several bulk order discounts giving good savings. We do have a bunch of criticisms however. The guarantee only allows you to return unused bottles of capsules, and you will need to return the product along with an original receipt and pay for return shipping of the product. The product purchase price is high considering it costs $31.96 plus $8.50 shipping for a one month supply of capsules. There are no new customer incentives. Shipping costs an additional $8.50 per order and there are no free shipping options. There is a lack of caution and warning information. There is no assurance from the manufacturer that the ingredients are non GMO, free from binders and fillers, or suitable for vegans and vegetarians. For these reasons we are not able to recommend this product for the treatment of your IBS symptoms.
Top investigative research brought to you by the experts at Customer Review.