BioGanix BioZyme Digestive Enzymes Review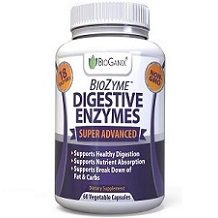 Today we review BioGanix BioZyme Digestive Enzymes. With 18 different natural enzymes, this non-GMO supplement will help improve your digestion and stop your Irritable Bowel Syndrome pain. With better digestion, this supplement may even help your body absorb nutrition better which can boost your energy levels.
Ingredients
Protease 1
Protease 2
Aspergillopepsin
Amylase
Lipase
Cellulase
Glucoamylase
Invertase
Alpha-Galactosidase
Beta Glucanase
Pectinase
Xylanase
Phytase
Hemicellulase
Lactase
Bromelain
Peptidase
With so many enzymes, this supplement will help your digestion improve. However, IBS pain is not only due to digestion problems. There is nothing in this supplement to specifically deal with the gas, bloating, and other painful symptoms that accompany this problem.
Dosage
The dosing instructions are slightly confusing. It is stated that you should take one capsule, 1-2 times at the beginning of each meal. While the one capsule is clear, we are confused whether you should take this capsule 1-2 times per day, or if you should take it before every meal. You should not exceed 6 capsules in a 24 hour period.
Possible Side Effects
As this product contains dairy, soy, and wheat, this supplement does contain a warning for allergy sufferers. If you have an allergy to these foods, you should avoid taking these capsules.
Price
One bottle of 60 capsules costs $17.97. If you subscribe to the company's auto-shipment program, you can save 10% off of your purchase price, making a bottle costs only $16.17. Unfortunately, without knowing exactly how many capsules to take per day, we cannot fully ascertain whether or not this supplement is too expensive. By taken before every meal, this bottle would not last even one full month.
Guarantee
This manufacturer does offer a 60 day money back guarantee. If you find yourself unhappy with your purchase, you must write a short explanation of why you are not satisfied and send it to a listed email address. They will then issue a full refund. It is not clear how long the company will take to issue your money back or if they will also refund the costs of shipping the product.
Conclusion of Our BioGanix BioZyme Digestive Enzymes Review
There are a few things we liked about BioGanix BioZyme Digestive Enzymes. With so many digestive enzymes per capsule, this supplement will help you to move food through your gastrointestinal tract more efficiently. Also, there is a 60 day money back guarantee if you are not fully happy with your purchase.
We did, however, find many concerns in regards to this supplement. First of all, even though the enzymes will help your digestion, there are no ingredients to specifically help your IBS symptoms like diarrhea or gas and bloating. Next, the dosing instructions are quite confusing, and it is unclear how many times per day you need to take a capsule. Lastly, there is soy, wheat, and dairy in this product, making it unsafe for allergy sufferers. For these reasons, we cannot recommend you use this product to help you stop your IBS symptoms.
Top investigative research brought to you by the experts at Customer Review.