CanPrev Digestion & IBS Review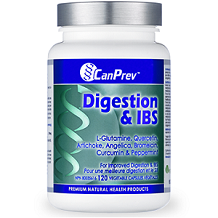 Today we are reviewing a product called CanPrev Digestion & IBS. CanPrev claims that this product can provide support from digestive issues including  Irritable Bowel Syndrome or IBS. The company claims that the ingredients included in their formula will relieve intestinal distress, bloating and cramping that is often associated with this condition. This product contains various vital amino acids that will restore the health of your digestive system. This product also soothes the gut, and helps food to digest more effectively and allow it to pass through your body without complications.
Ingredients
L-Glutamine
Artichoke (cynara scolymus) leaf
Angelica archangelica root
Bromelain
Curcumin
Peppermint (mentha x piperita) leaf
Vegetable-grade magnesium stearate
Vegetable capsule
L-Glutamine is an amino acid that is vital for the production of proteins that keep the intestines healthy. Quercetin is a powerful antioxidant, which is absorbed in the gut. Artichoke leaf relieves mild constipation and soothes the gut. Angelica archangelica root relieves cramping and bloating. Bromelain improves the absorption of the active ingredients. Curcumin acts as an anti-inflammatory. Peppermint leaf helps to soothe the bowels.
Dosage
Take three capsules twice a day with a meal. You should also make sure to include enough fiber in your diet and take a probiotic.
Possible Side Effects
Consult a healthcare practitioner before using this product, especially if you are breastfeeding or have a medical condition including anemia, gallstones, excessive stomach acid, gastrointestinal lesions/peptic/stomach ulcer or on a low protein diet or before having surgery. Avoid prolonged exposure to sunlight, UV light or UV therapy as ingredients may cause photo-sensitivity. Do not use if you are pregnant or allergic to plants of Asteraceae / Compositae / Daisy family or if you have a bile duct obstruction. Consult a healthcare practitioner if symptoms persist or worsen. Hypersensitivity, nausea, vomiting and diarrhea have been known to occur; in which case discontinue use.
Price
You cannot buy this product online but the manufacturer provides an extensive list of pharmacies that stock this dietary supplement. We are unable to give you an indication of the cost as it may differ depending on location.
Guarantee
We were unable to find any guarantee or return policies for this product.
Conclusion of Our Digestion & IBS Review
In concluding our review of this product we can say that we liked that the supplement contains a number of potentially beneficial ingredients to soothe the gut and bring balance to the intestinal fauna. We liked that it is free from gluten, dairy, soy, or GMO ingredients. We do feel that the product was marred by a number of key weaknesses however. We were unable to find pricing for this product online. There are no special discounts for bulk buying or incentives for new customers provided by the manufacturer. There is no product guarantee or return policy. There is no assurance from the manufacturer that the product is made in an FDA certified facility, or that the contents of the capsules are free from fillers and binders. We were not able to find any customer reviews for this product. We suggest that you look for a different brand of COQ10 supplement that has what this one is lacking in terms of pricing, guarantee, and bulk buying discounts.
Top investigative research brought to you by the experts at Customer Review.