Crystal Clear Digestive Enzymes Supplement Review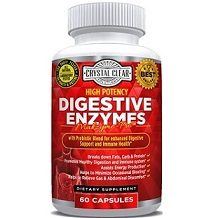 Crystal Clear Digestive Enzymes Supplement is a product that can help promote a better digestive system environment and reduce or prevent symptoms associated  with IBS. These can include gas, bloating, indigestion, nausea, constipation and among others. Digestive Enzyme supplements can help the body break down difficult proteins, fats, and carbohydrates to assist the body in assimilating nutrients to make more energy, and help promote weight loss. The manufacturer claims that this product contains different types of probiotics that protect your gut to promote healthy digestion and energy production.
Ingredients
MakzymePro Enzyme Blend:
• Fungal Protease from Aspergillus Oryzae
• Lactobacillus plantarum
• Lactobacillus acidophilus
• Lactobacillus casei
• Bromelain
• Papain
• Fungal Lipase
• Fungal Lactase
• Alpha Galactosidase
Inactive Ingredients: Vegetable Magnesium Stearate, Silicon Dioxide, Cellulose (vegetable capsule).
Each probiotic plays a different role in the body. Lactobacillus plantarum for instance lives in your stomach, building a healthy barrier to your colon to prevent harmful bacteria from penetrating. Enzymes help breakdown fat, carbohydrates, protein and fiber. Lactobacillus when taken as a dietary supplement could have negative effects on your digestion which would be useful information for the consumer to know.
Dosage
Take one capsule twice a day. For best results take 20-30 minutes before a meal or as directed by your healthcare professional. The instructions don't state the best times of day to take the pills which we thought was lacking. Do not exceed the recommended dosage.
Possible Side Effects
Consult with your healthcare professional before taking this supplement if you have an existing medical condition, pregnant, lactating or are under the age of 18, before taking this supplement. No specific side effects were mentioned by the manufacturer but in our research we found that the most common side effects of using digestive enzymes may include bloating, nausea, gas, and constipation. It would have been good to see these side effects explained clearly on the the product label or company website.
Price
On the manufacturer's website, one 60 count bottle of pills costs $12.00. You might find a better deal on Amazon especially if you want to buy in a larger quantity of pills. If you join the company's VIP Club, you get 20% off your next purchase. Any product you buy on the Crystal Clear Solutions website comes with free domestic shipping, anywhere in the United States.
Guarantee
If you are not completely satisfied with any product purchased within the last 12 months, simply return the unused portion to us for a full refund, including return postage for domestic orders only. The refund is for the cost of the merchandise returned plus standard, domestic return shipping charges incurred while returning said items. Initial shipping charges are not reimbursed. Crystal Clear Solutions guarantees that every product you purchase is made from the highest quality ingredients and processed in an FDA approved facility. All returns valued at $500 or more shall be subject to a 20% restocking fee. Exchanges are not available online.
Conclusion of Our Crystal Clear Digestive Enzymes Supplement Review
Among the positive things we liked about Crystal Clear Digestive Enzymes Supplement are that the supplement is manufactured in the USA at an FDA Registered Facility, contains no -GMO, is GMP certified, gluten free, and suitable for vegans. But we also had the following not so positive comments. The manufacturer's website only has three reviews for the product which suggests poor interest or a non beneficial reputation among consumers. Other reviews on Amazon varied widely in scope with many users stating they experienced unpleasant side effects or that the supplement did not seem to provide any therapeutic benefits. There was no description of possible side effects that you can experience when taking digestive enzymes. These can include include bloating, nausea, gas, and constipation. These symptoms also match the very same symptoms that you might experience with IBS and the reason why you wanted to take a supplement to help your condition in the first place! The guarantee states that if you are not completely satisfied with any product purchased within the last 12 months you can return the product, but this doesn't specify if you have 12 months from order date, delivery date or received date. We suggest you find a product that has better consumer reviews, and a stronger manufacturer's guarantee.
Top investigative research brought to you by the experts at Customer Review.