Jarrow Formulas Ideal Bowel Support Review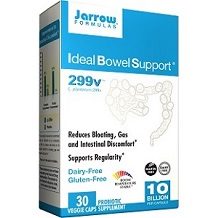 Today we review Jarrow Formulas Ideal Bowel Support. With the use of probiotics, this supplement helps to reduce gas, bloating, and intestinal pain, all of which are common symptoms of Irritable Bowel Syndrome. Stable enough to be stored at room temperature, these capsules contain 10 billion live probiotic cultures.
Ingredients
The main ingredient in this supplement is Lactobacillus Plantarum 299v. This specific probiotic resists stomach acid to be able to survive until it reaches the intestines, where it will help with digestion. While this probiotic has been clinically proven to help relieve some symptoms of IBS, most IBS related supplements contain additional ingredients, like turmeric, fennel, and ginger, which all help ease the inflammation typically caused by this disease.
Dosage
The suggested dosing for this product is to take 1 capsule once or twice per day with meals. With 10 billion live cultures per capsule, this dose should help you keep your digestion more regular.
Possible Side Effects
If you are pregnant or breastfeeding, or if you have a medical condition or are on other medications, you should consult with a doctor or healthcare professional before starting this supplement. Additionally, if you are under the age of 18, you should avoid taking this supplement. Lastly, even though there are no listed side effects for this product, multiple customers did report that this supplement actually made their IBS symptoms worse, giving them terrible cramps and diarrhea.
Price
Each box of this supplement contains 30 capsules. The manufacturer then ships this product in a set of 3 boxes, so you receive 90 capsules total. One package of 90 capsules costs $80.85. If you spend $100 or more, the manufacturer offers a coupon code for 20% off of your order. Additionally, free 2 day shipping is included in all orders, and purchases of over $200 receive free next day shipping. Lastly, the company offers a free gift with every purchase. While all of these free extras are nice, nothing is truly free, instead the company just inflates the price of your original purchase.Instead of offering a free gift, the company could lower your price by a few dollars to help keep costs down.
Guarantee
This manufacturer does offer a 60 day money back guarantee, but only on products that have been purchased directly through their website.Within 60 days of your purchase, if you find yourself unhappy with this product, you can request to receive your money back, receive a full credit towards a new product, or receive a replacement of your product. In order to request the refund, you must follow their specific policy, laid out on their website. Additionally, while you can return opened products, the returned supplement cannot be missing more than 30 days worth of the supplement.
Conclusion of Our Jarrow Formulas Ideal Bowel Support Review
There are a few things we liked about Jarrow Formulas Ideal Bowel Support. This probiotic supplement is both vegetarian and stable enough to be stored at room temperature. Also, with a once or twice per day formula, this supplement is easy to remember to take every day.
Unfortunately, we had many concerns with this product. While probiotics do help with your digestion, there are many other ingredients that were missing to truly help with your IBS symptoms. Next, customers reported that this supplement actually made their gas, bloating, and diarrhea worse. Lastly, while they offer a guarantee, there are many stipulations and hoops that customers have to jump through in order to receive their refund. For these reasons, we cannot recommend this supplement to help ease your symptoms from IBS.
Top investigative research brought to you by the experts at Customer Review.