Natural Health Practice IB Support Review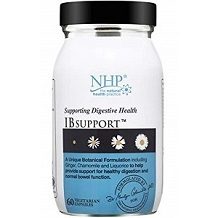 Today we review Natural Health Practice IB Support. Using all natural ingredients, this supplement offers specially formulated nutrients to help improve your bowel function and improve your overall digestion. With vegetarian, kosher capsules that are free from yeast, dairy, and gluten, this product is safe for almost anyone to take.
Ingredients
Peppermint Oil
Marshmallow Root
Slippery Elm Bark
Turmeric Powder
Ginger Root
Chamomile
Liquorice Root
Artichoke Leaf
While these ingredients are proven to help ease the harsh symptoms of your IBS, many other supplements like this also include digestive enzymes or probiotics to help jumpstart your digestion. Adding these ingredients allows your IBS symptoms to disappear and your digestion to return to normal so the symptoms do not return.
Dosage
The recommended dose of this supplement is 1 to 2 capsules daily. They should be taken 30 minutes before eating a meal with a glass of water. The nutrition facts shows the amounts of each ingredient contained in two capsules. By only taking one capsule daily, you will be getting half of the listed amounts, which may not be enough to be effective at stopping the pain and bloating you may be experiencing.
Possible Side Effects
If you are pregnant or nursing, you should not take this supplement. Also, children under the age of 18 should not take these capsules.
Price
Each bottle contains 60 capsules and costs $31.50. This is slightly expensive for a one month supply of this type of supplement, but you could make it cheaper by taking a lower dose. As this is an English company, shipping will be more expensive, and the company warns of hidden import taxes and fees that may be charged. Also, shipping will take 10-14 working days to reach the US.
Guarantee
This company does not offer a money back guarantee. Instead, they list their extremely strict refund policy on their website. If you change your mind about your purchase, you only have 14 days from the original purchase date to return your product. The container must be unopened and in resellable position in order to receive a refund. But, with only 14 days to make a return, and shipping taking 10-14 days, any customer in the US will be unable to take advantage of this return policy. As such, you must be 100% sure with this purchase before you spend your hard earned money.
Conclusion of Our Natural Health Practice IB Support Review
There are a few things we liked about Natural Health Practice IB Support. These capsules are both vegetarian and kosher, as well as being free from many common food allergens. Additionally, the easy, once per day formula is flexible, allowing you a more customized support.
Unfortunately, we had many problems with these capsules. The ingredient list does not contain any digestive enzymes or probiotics to help normalize your digestive tract. Next, the price of these supplements is slightly high, and it will only get higher with overseas shipping and import tax fees. Lastly, the refund policy does not cover anyone living outside of Great Britain, as it is too short. For these reasons, we cannot recommend this supplement to help with your IBS symptoms.
Top investigative research brought to you by the experts at Customer Review.