Pure Healthland Advanced Probiotics Review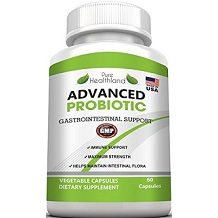 The subject of this review is for a product called Pure Healthland Advanced Probiotics. The manufacturer claims that it will help improve digestive health, accelerate fat loss, improve energy levels, and also help relieve digestive pain. In addition to this, it has also been designed to support a healthy immune system. However, the ultimate aim of this product is for gastrointestinal support with the help of probiotic bacteria. Learn more about Pure Healthland Advanced Probiotics by reading our full review below and see if it is worth a try.
Ingredients
Probiotic Bacteria Consisting of:
Bacillus subtilis
Lactobacillus rhamnosus
Lactobacillus casei
Bifidobacterium longum
Lactobacillus plantarum
Bifidobacterium breve
This dietary supplement is a combination of probiotic bacteria that supports the digestive system, as well as the immune system, ultimately providing gastrointestinal support. Thus, this product can help with the symptoms of irritable bowel syndrome. The capsules are vegetable capsules and thus vegetarian friendly. We are concerned about the fact that there is no indication to how pure the ingredients are and if fillers, binder, preservatives, and additives were used in it. It also lacks the presence of BioPerine which would otherwise help with increased absorption and bioavailability.
Dosage
The manufacturer suggests that users take one capsule 1 to 3 times a day. This should preferably be taken with a meal or as directed by your healthcare professional. These instructions are not very direct and may lead to complications if not taken correctly. The individual might take too much or too little and the product will not work for them.
Possible Side Effects
Users are cautioned to not exceed the recommended serving size per day. Women who are pregnant, lactating, under the age of 18, or who are using medication should consult their healthcare professional before the use of the product. As the product was manufactured in a facility that may process soy, wheat, eggs, milk, fish, and nuts, individuals with these allergies should caution the use of this product.
Price
Pure Healthland Advanced Probiotics can be purchased online from the manufacturer's website. A single bottle will cost $22.99, after the discount of $7. The product cannot be purchased elsewhere and the manufacturer does not offer bulk packages for purchase.
Guarantee
When purchasing this product, the manufacturer also provides their clients with a 60-day money-back guarantee. The manufacturer only states that all the bottles purchased must be returned for a full refund. This is a weak guarantee as one does not know if the bottles may be opened and used or if only sealed products may be returned.
Conclusion of Our Pure Healthland Advanced Probiotics Review
After our review of Pure Healthland Advanced Probiotics, we see a few things that we like about the product. It contains vegetable capsules that are vegetarian friendly and easy to swallow. The manufacturer also offers a discount on their product.
Nonetheless, there are also a few things we do not like about the product. Firstly, it does not contain an essential ingredient for added bioavailability and absorption, namely BioPerine. Furthermore, there is uncertainty of the degree of purity of the product and if it contains additives, preservatives, binders, or fillers. The instructions on the amount of capsules that should be taken in a day is quite vague and may render the product ineffective. Lastly, the manufacturer offers a very weak guarantee for their customers. These reasons lead us to believe that Pure Healthland Advanced Probiotics is ineffective.
Top investigative research brought to you by the experts at Customer Review.