BioGanix Pure Forskolin Extract Review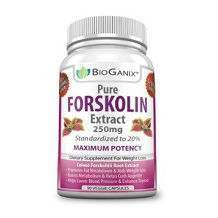 With so many Forskolin weight loss products flooding the market today, it can be hard to decide which supplement is the right one for you. Today we look at BioGanix Pure Forskolin Extract, which claims to help you lose weight by promoting fat breakdown, boosting metabolism, suppressing your appetite and even lowering blood pressure.
The popularity of Forskolin as a weight loss supplement is not just a fad. It has actually been clinically proven to be effective at reducing the amount of body fat in overweight individuals over a relatively short period of 12 weeks. Forskolin, which comes from the root extract of the plant Coleus forskohlii, has also been widely used as an herbal medicine in different cultures for many generations.
Ingredients
Let's take a closer look at what's actually inside every capsule of BioGanix Pure Forskolin Extract. It is advertised as a 'Maximum Potency' Forskolin product that is 100% pure and completely all-natural. But what does it really mean?
Each veggie capsule contains:
250mg of Coleus forskohlii extract (standardized to 20%)
Vegetable Cellulose
Microcrystalline Cellulose
Magnesium Stearate
Silicon Dioxide
Its only active ingredient is indeed Forskolin, which is standardized to 20%. This means that every time you take a BioGanix Pure Forskolin Extract capsule, you will get an equivalent of 50mg of Forskolin. There are many Forskolin products out there that contain only 125mg of Forskolin or are standardized only up to 10%. So BioGanix' Maximum Potency claim is truthful.
It does however contain additives like Magnesium Stearate and Silicon Dioxide which typically function as fillers or binders for the capsule itself.
Dosage
BioGanix recommends one Forskolin veggie capsule every morning before eating a meal. If you want to see faster results, you can take two capsules a day, which is the maximum recommended dose.
Side Effects
There are no known side effects associated with Forskolin itself. BioGanix also advertises that its Pure Forskolin Extract is 100% natural and safe. So there is no reason to worry about any harmful side effects, as long as you follow the recommended dose.
Price
A bottle of BioGanix Pure Forskolin Extract, which contains 90 capsules, has a list price of $79. However, it can be found on sale on Amazon for as low as $19.95. Following the manufacturer's maximum recommended dose of two capsules a day, one bottle should last up to 45 days or one and a half months.
Guarantee
BioGanix offers a money back guarantee, though it seems like it is entirely based on Amazon's return policy.
Conclusion – BioGanix Pure Forskolin Extract Review
BioGanix Pure Forskolin Extract offers a very a good value especially if purchased on sale. Its capsules are also packed a highly potent dose of Forskolin with every capsule. But one has to question why a product that's branded as 'Pure' have so many fillers and additives in its formulation.
It also lacks a proper money back guarantee where you can try the product for a few months and then decide if it's good enough for your needs. Weight loss is a difficult battle for many people, and most of the time you'll need to try out a treatment for a while before seeing any significant results — this is where a true money back guarantee really helps ease people's doubts with the assurance that you won't be wasting money on a low quality product that's full of promises it can't live up to.
Top investigative research brought to you by the experts at Customer Review.