Nutricreation Forskolin Review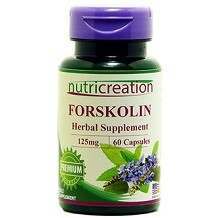 Nutricreation Forskolin is a weight loss supplement that claims to help you burn fat and improve your body composition. Its active ingredient is Forskolin, which has long been used in alternative medicine to cure different ailments. In recent years, it has been clinically proven to help decrease body fat in overweight individuals.
With so many different Forskolin supplements in the market today, it's hard to pick out the good ones from the bad. Let's take a closer look at Nutricreation Forskolin and see if it's worth your time and money.
Ingredients
An excellent way to determine what a supplement actually offers is by looking at its ingredient list. If you're concerned about your health, you should be wary of what you consume. So it is highly prudent to check what these supplements are made of.
Each capsule of Nutricreation Forskolin contains:
125mg Coleus forskohlii extract (standardized to 10%)
Gelatin
Magnesium Stearate
Calcium Carbonate
125mg of Coleus forskohlii extract standardized to 10% roughly translates to 12.5mg of actual Forskolin for every capsule. Compared to other Forskolin supplements, Nutricreation's Forskolin content is quite low.
It also contains gelatin, magnesium stearate and calcium carbonate which are just fillers, binders and additives that provide no real health benefit.
Dosage
Nutricreation recommends taking just one Forskolin capsule a day.
Side Effects
No known side effects have been associated with the use of Forskolin. Nutricreation doesn't list any side effects for its Forskolin supplement either.
Like other dietary supplements and medications, the manufacturer suggests that nursing mothers, pregnant women, minors below the age of 18 and individuals already diagnosed with medical conditions should check with their doctor first before making it a part of your daily routine.
Price
One bottle of Nutricreation Forskolin containing 60 capsules costs $37. Considering the product's low Forskolin content, it doesn't offer much value for its premium price.
Following the manufacturer's recommended dose, a bottle should last up to two months.
Guarantee
Nutricreation does not offer a true money back guarantee. Its website only cites a return policy that is good for 15 days, which in our opinion is not long enough to determine if the product works or not.
Conclusion of Nutricreation Forskolin Review
Considering Nutricreation Forskolin's low Forskolin extract content, unnecessary fillers and relatively high price, it's safe to say that there are lots of other Forskolin supplements in the market today that offer more value for your money.
If you take a look at the other Forskolin supplements that are out right now, you'll have no trouble finding one with a much higher dose with absolutely no extra fillers for a significantly lower price. You can also typically find other companies offering a money back guarantee to assure its customers that their products can actually help you lose weight. This certainly adds much more value to the product, especially if it's going to be your first time trying out a Forskolin supplement and are unsure of how effective it can really be.
Top investigative research brought to you by the experts at Customer Review.