Apex Vitality Forskolin Review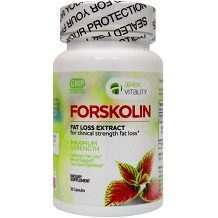 This review is an analysis of a product called Apex Vitality Forskolin. This product claims to be a belly fat blaster. It asserts that it can trim your waistline, speed up weight loss and increase lean body mass. Apex Vitality also claims that this supplement is effective with or without workouts and has no noticeable side effects. This review thus examines this product and its claims to determine whether it is worth your time and money.
Ingredients
Even though the label was not clearly viewable, we did manage to see that Apex Vitality Forskolin contains 125 mg of Forskolin extract. The extract increases the presence of adenylate cyclase. The enzyme stimulates cyclic Adenosine monophosphate (cAMP). cAMP releases fatty acids from adipose tissues so that the body can burn them for energy. This enzyme also enhances production of lipase which facilitates lipolysis. Forskolin also prevents the formation of new fat. In a nutshell, Forskolin by Apex Vitality claims to burn fat without touching lean muscle.
Dosage
To glory in the benefits mentioned above, Apex Vitality recommends that you should take a 125 mg dose of the product each morning. We found the dosage somehow concerning as most clinical studies recommend a dosage of not less than 500 mg daily intake.
Possible Side Effects
Forskolin is not for use for people under 18 years, pregnant or nursing mothers. Otherwise, Apex Vitality says that the extracts should not have any side effects. They are 100% natural and organic.
Price
Apex Vitality avails its Forskolin in three different purchasing options with free shipping. Here are your choices.
One bottle retails at $53.98.
The "buy two and get one free" offer will cost you a total of $104.97.
Buy three bottles and get two bottles free will cost you a total of $144.95.
Guarantee
Forskolin by Apex Vitality comes with a 14-day return policy. The period starts from the day your order arrives at your doorstep. To access the process, all you have to do is call their customer service. The return policy allows you to return unopened bottles. That means opened bottles are not eligible for a refund. We also found that all returns are subject to a restocking fee ($10) and shipping plus handling will cost you an extra $5.
Conclusion of Our Apex Vitality Forskolin Review
Forskolin by Apex Vitality looks like a good product. It contains Forskolin which is quite effective against belly fat. You can order the Forskolin extract directly from the manufacturer and the manufacturer offers bulk purchasing options to help you save money.
However, before place an order, consider the following:
First off this product is very expensive. Many Forskolin extracts in the market confer the same benefits but at a lower price. Second, the return policy is complicated, and you do not get all your money back. All returns are charged restocking, shipping, and handling costs. Apex Vitality also puts you on an auto-shipping program, meaning that they bill your credit card every month. Auto-delivery programs are tricky as it's hard to cancel or make changes. Auto delivery may result in you having a depot of products that do not even work. Also, Apex Vitality recommends a dosage that is lower than most clinical studies involving Forskolin. That means that you take longer to achieve your desired results if you even will.