Purely Scientific 3 in 1 Digestive Formula Review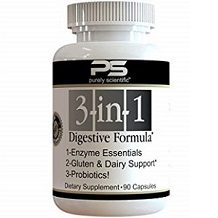 Today we review Purely Scientific 3 in 1 Digestive Formula. By combining enzymes, probiotics, and support for dairy and gluten products, this supplement will help you improve your digestion and stop your stomach pain. This supplement is only newly available to the public, as it used to need a doctor's prescription.
Ingredients
Amylase
Acid Maltase
Protease 4.5
Alpha-galactosidase
Lactase
Cellulase
Protease 3.0
Lipase
Invertase
BioCore DPP IV-I
Lactobacillus plantarum
Lactobacillus acidophilus
Streptococcus thermophilus
While all of these ingredients will help improve your digestion, they are missing some of the natural herbs and minerals typically added to IBS treatments. Herbs like turmeric, ginger, and fennel all help ease the inflammation in your gut that can cause the pain often associated with IBS.
Dosage
After thorough research, we were unable to find any dosing information for this supplement. Without this information, it is near impossible to determine how effective this product will truly be.
Possible Side Effects
This supplement has no listed side effects or warning. This is concerning, as even the safest robots have simple warnings, like checking with a doctor before starting a new dietary supplement. Additionally, we found customer reviews that reported side effects like headaches and stomach pains and cramping.
Price
This manufacturer does not sell their product directly to consumers. Instead, they send their customers to an Amazon page to make their purchase. According to the page on Amazon, this supplement is currently unavailable, and therefore there is no pricing information available. Customer reviews did state that this product was expensive, which convinced them that it would work. Unfortunately, as everyone has a different definition of expensive, that is not a reliable way to judge the cost of this product.
Guarantee
Like most companies that do not deal directly with customers, there was no information regarding a money back guarantee or return policy listed on the website. This shows that the manufacturer does not truly stand behind their product. While they do offer a contact page with a phone number and an email address, again customers reported that they were unresponsive and did not offer a refund for unsatisfied purchases.
Conclusion of Our Purely Scientific 3 in 1 Digestive Formula Review
There are a few things we liked about Purely Scientific 3 in 1 Digestive Formula. This supplement combines the power of digestive enzymes and probiotics to help improve your digestion.
Unfortunately we found many concerns about this supplement. While the combination of ingredients will improve digestion, they do not contain anti-inflammatories, which are key to helping calm IBS symptoms. Secondly, there was no available information regarding dosing. Next, even though there is nothing stated online regarding side effects or warnings, many customers reported headaches and increased stomach pain. Lastly, as the company uses an Amazon page to sell their products, where the product is unavailable for purchase anyways, they do not offer a refund policy, and customers reported how unhelpful the customer service staff was. For these reasons, we cannot recommend this supplement to help stop your IBS related symptoms.
Top investigative research brought to you by the experts at Customer Review.