Premiva Ultra Probiotic Review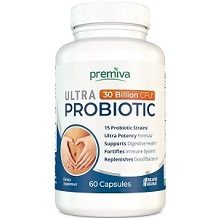 Premiva Ultra Probiotic is the focus of our review in this article. The maker's of this supplement claim that the product provides unparalleled intestinal support for improving bowel function. The product is designed to combat uncomfortable symptoms associated with Irritable Bowel Syndrome (IBS). Premiva argues that their formula provides the highest CFU count for optimal results and has several additional health benefits. The formula is designed to boost immune strength, promote weight loss, increase nutrient absorption, prevent the buildup of toxins, and alleviate irregular bowel movements.
Ingredients
This product contains a Proprietary Probiotic Blend of 15 strains of good bacteria. The bacteria in this blend include L. Acidophilus, L. Rhamnosus, and B. Longum to name a few. The aim of this formula is to balance bacteria in the gut and, thus, remedy symptoms associated with IBS. The addition of FOS (Fructooligosaccharides) may protect the digestive tract from unhealthy bacteria and support the growth of healthy bacteria. FOS is known to cause negative side effects for people with a low tolerance to fructose.
Dosage
Take two capsules daily. The manufacturer does not specify if there is a preferred time of day to take the capsules, or if you should take them with a meal and water.
Possible Side Effects
The manufacturer states that you should not exceed the recommended dose. Pregnant, nursing mothers, and children under the age of 18 should not use this product. Fructooligosaccharides can cause bloating, cramps, and diarrhea. Discontinue use if you experience any adverse symptoms. The product contains lactose and is a possible allergen for lactose intolerant people.
Price
You can purchase this product from third party retailers only. We found it on Amazon where you can purchase a one month supply of 60 capsules for $26.97. There are no discounts for bulk orders or incentives for new customers. Shipping is extra.
Guarantee
Premiva Ultra Probiotics comes with a 60-day 100% happiness guarantee. If you are not satisfied, return for a full refund.
Conclusion of Our Premiva Ultra Probiotic Review
The product contains a substantial amount of good bacteria which may prove beneficial for IBS. Ultra Probiotics is manufactured in the USA using FDA registered, cGMP certified facilities. There is a 60 day guarantee and return policy. We were disappointed in several key areas however. The product has some potential side effects related to it. Fructooligosaccharides can cause bloating, cramps, and diarrhea. It also contains lactose which is a possible allergen if you are lactose intolerant. While the product website says that there is a 60 day guarantee and return policy, we could not find specific details of the policy. The product is not cheap considering your one month supply of capsules costs $26.97 and there are no discounts for bulk orders or incentives for new customers, and shipping is extra. There are very few reviews for this product on Amazon. Some customers have complained that it was not potent enough to deliver optimal results. For all these reasons we do not recommend Premiva Ultra Probiotic as an IBS treatment.
Top investigative research brought to you by the experts at Customer Review.