Nature's Wellness Digestive Enzymes Review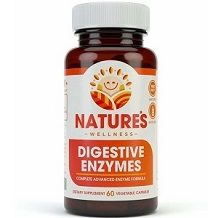 In this review of Nature's Wellness Digestive Enzymes, we will be taking a closer look at the facts. This product claims that it aids in the digestion of proteins, carbs, fats, sugars, vegetables, grains, dairy, and more. The product also claims to provide relief from symptoms associated with IBS such as gas, bloating, and nausea. The unique selling point of this product is that it enhances the absorption of nutrients
Ingredients
Protease 1
Protease 2
Aspergillopepsin
Amylase
Lipase
Cellulase
Glucoamylase
Invertase
Alpha Galactosidase
Beta-Glucanase
Pectinase
Xylanase
Phytase
Hemicellulase
Lactase
Papain
Peptidase
Other ingredients include Maltodextrin, Vegetable Capsules (Hypromellose and water), and medium chain triglycerides. The product seems to contain all the necessary ingredients to make it a top competitor amongst other variants however where this product falls short is the fact that it contains several allergens including dairy soy and wheat. Due to the ingredients in this product, it is not suitable for vegans.
Dosage
The manufacturer recommends taking 1 capsule, 1 to 2 times at the beginning of each meal as a dietary supplement, or as directed by a healthcare professional. The manufacturer stresses that the supplement dosage should not exceed 6 capsules per day.
Possible Side Effects
Not much information is given about the side effects of this product, however, the manufacturer clearly states that you should always consult your doctor before mixing this supplement with prescription medication. Pregnant women and people under the age of 18 should also avoid this supplement. A very important fact we came across in this review is that the manufacturer advertises this product as gluten-free, however, in multiple sections of their website they say that some additional ingredients may contain wheat in addition to a processed milk, soy, egg, peanuts, tree nuts, fish and, crustacean shellfish as the factory used to manufacture this supplement may contain traces of these allergens. If you suffer from any of these allergens, it is advised to stay clear of Natures Wellness Digestive Enzymes.
Price
This product retails for $17.85 for 60 capsules and can be purchased online. Free shipping is not available when purchasing single bottles at a time. Discounts are also available to consumers looking to purchase multiple units of the products, however, these discounted options are only available on a monthly or quarterly subscription with the only benefit being free shipping included.
Guarantee
Natures Wellness does offer a returns policy on their Digestive Enzymes product, this returns policy covers only your first bottle purchased, additional bottles are not covered and you will not be able to return them. Nature's Wellness will refund you the cost of the product excluding the shipping fee.
Conclusion of our Digestive Enzyme Product Review
The Digestive Enzyme from Natures Wellness has shown to be a decent product at a decent price although we found it very difficult to find any reputable reviews online as it seems these are currently lacking. We were also very skeptical of the claim made by the company stating that some consumers see results almost immediately with others taking several months to see any differences. The lack of positive or any reviews, limited information on the possible side effects and the weak claims of the manufacturer leads us to believe that there are many other better products of this nature on the market.
Top investigative research brought to you by the experts at Customer Review.