ProBiome RX Candida Combat Review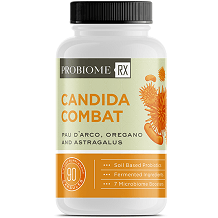 The following review is for a product called ProBiome RX Candida Combat. The product claims to support a healthy yeast and fungal balance and gut health.
Ingredients
This product is made up of three different blends:
Candida Blend – 1000mg
Tonic Mushroom, Micro Algae, and Mineral Blend – 610mg
Soil and Plant-Based Probiotic and Prebiotic Blend – 350mg
While working on the Candida Combat review, we found that probiotics and prebiotics support healthy microbial balance in the digestive tract, nutrient absorption, as well as immune system and fungal balance. The tonic mushroom. micro algae, and mineral blend include turkey tail, spirulina, blue-green algae, chlorella, Himalayan Shilajit, reishi, shiitake, maitake, and fermented platinum, gold, and silver.  This supports a healthy detoxification, fungal balance, and gut health. The candida blend contains Astragalus root, oregano leaf, Pau D'arco root, lysozyme, cellulase, hemicellulase. This is a cleansing blend that provides added support for healthy fungal balance.
Dosage
The dosage of Candida Combat for adults is three capsules per day. It is up to the user whether to take the three capsules at once or at different times during the day. The capsules are also to be taken with 8 ounces of water or juice. This product is not designed for children. Nursing and pregnant women should consult a doctor before using this product.
Possible Side Effects
As the ingredients in this product are natural, side effects should be limited. You should make sure that you are not allergic to any of the ingredients before using. Pregnant women, people with allergies and medical conditions and people who use other medications should only use Candida Combat after consulting a doctor. The color and odor of the product varies from batch to batch, however, the manufacturer states this does not affect the quality of the product.
Price
You can buy Candida Combat online from the Dr. Axe website for $40.99. This is marked down from the regular price of $51.24. A user can save 15% if they subscribe to the website of Dr. Axe. A bottle will then cost $34.84. It is also possible to buy three packs and six packs of this product for $109 and $215.21 respectively.
Guarantee
For our Candida Combat review, we found that Dr. Axe offers a 100% risk-free money back guarantee. A user can get a refund within 60 days from the date of purchase. However, we could not find more details about the refund policy such as the condition the bottles need to be in. Many companies do not accept the returning product for different reasons which they don't mention on the pack. We also did not find whether the company would reimburse the shipping charges and taxes.
Conclusion – ProBiome RX Candida Combat Review
Our research for the review of Candida Combat found that it seems to effectively support a healthy fungal and yeast balance. It contains the necessary ingredients that support gut health. The website also explains in detail how this product works. However, it is a bit on the expensive side. The details around the guarantee are also not clear. There is no information about the manufacturing process of this product and if it has been third-party tested for purity and quality.
Top investigative research brought to you by the experts at Customer Review.