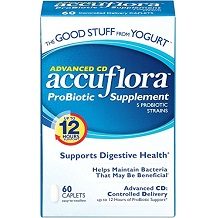 Yeast is a fungus that lives in the vagina and usually stays in small numbers. When a bodily change occurs, it shifts the balance and too many yeast cells grow and multiply which is when a yeast infection occurs. One common cause is from taking antibiotics. Symptoms include itching and soreness in the vagina, pain while urinating and thick and clumpy white discharge. This review will examine Accuflora, which is a probiotic supplement taken as a way to prevent yeast infections from occurring. Probiotics are microscopic organisms that help maintain the natural balance of organisms within the body.  Accuflora claims to support digestive health and regulate your body's internal balance. They feature Bio-tract technology which allows the caplet to release the probiotic strains at a controlled rate for up to 12 hours, which can potentially prevent yeast infections from occurring.
Ingredients
The main ingredient in this product is a Probiotic Blend that includes, lactobacillus Acidophilus, Lactobacillus rhamnosus, Bifidobacterium bifidum, Lactobacillus Salivarius, Streptococcus Thermophilus. Lactobacillus is one specific type of probiotic used to restore normal balance in the vagina and has the ability to prevent future yeast infections.
Dosage
Accuflora recommends taking 2 caplets up to two times a day.
If you have a medical condition, are on medication or are pregnant or nursing, consult with your doctor before consuming.
Possible Side Effects
Accuflora cites side effects like diarrhea, flatulence, abdominal bloating, stomach pain, abdominal pain and acne that are possible.
Price
Accuflora is only available for purchase through third-party retailers. We found Accuflora listed on a third party retailer's website for $15.00 for one case of 60 capsules.
Guarantee
We could not find a manufacturer's guarantee for this product. The price and guarantee will vary depending on the retailer where you buy from.
Conclusion of Our Accuflora Review
Accuflora appears to be an upstanding product as is does contain Lactobacillus which research shows can aid in the prevention of yeast infections. They also have fairly reasonable pricing for a one month's supply. However, Accuflora does not offer any money back guarantee which suggests a lack of confidence in their product and puts the consumer at risk if they do not end up liking the product. In our research, we found several reports from consumers claiming that Accuflora caused them severe stomach pains to the point that they had to immediately stop taking the capsules. There were also reports that consumers had experienced significant weight gain after taking this supplement. Once satisfied and loyal customers who had taken Accuflora regularly complained that the formula had changed and was no longer effective and had stronger side effects so they stopped buying Accuflora. We also found complaints that the dosage recommendation is confusing. With so many consumer complaints about a multitude of issues with this product, we are steered away from trying out Accuflora and would turn to other cheaper, higher quality and more effective options that are available on the market today.
Top investigative research brought to you by the experts at Customer Review.