Solaray Yeast-Cleanse Review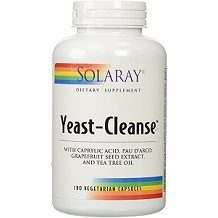 This Solaray Yeast-Cleanse review examines important information about this supplement, such as ingredients, side effects, and more. Solaray Yeast-Cleanse is a natural dietary supplement designed to clear up yeast infections. Many included ingredients are used to fight Candida infections.
Ingredients
Solaray Yeast-Cleanse contains 10 active ingredients:
Vitamin C
Calcium
Magnesium
Zinc
Caprylic Acid
Pau D'Arco
Gp Garlic
Licorice Root
These ingredients try and fight yeast infections, such as candida. Vitamin C is used to boost the immune system, which can help the body fight acute yeast infections quicker. Calcium can help balance pH levels, which can reduce the chances of getting a yeast infection. Magnesium can help break down candida quicker, making the infection clear up faster. Zinc is also important, as a zinc deficiency can lead to candida overgrowth.
Caprylic acid is a fatty acid that kills candida fungus, as well as restores stomach acid levels. Pau D'Arco is often used as a toxic cleanser that can kill fungus growth, such as candida. Grapefruit seed extract is another ingredient that boosts the immune system, making it easier to fight yeast infections. Licorice root contains 25 properties known to fight against yeast infections. Tea tree oil is another common ingredient for fighting yeast and fungal infections.
Dosage
The recommended dosage is six capsules a day. Users can take them all at once or take two capsules three times a day. However, they should be taken with food or water. It is not clear how long Solaray Yeast-Cleanse needs to be taken for. Some customers have reported it takes about 10 days to work.
Possible Side Effects
There are no reported side effects for this product. However, the label does list the following warnings:
This product is not for children.
Do not use if pregnant or nursing.
Inform a doctor or health practitioner when using this product.
Price
Solaray Yeast-Cleanse can be purchased through third-party websites such as Amazon, theVitaminShoppe, and iHerb. The manufacturer does not seem to have a website of their own. A 90-capsule bottle costs $17.29 on TheVitaminShoppe, $15.56 on Amazon, and $15.40 on iHerb. Amazon offers a subscribe and save option, which saves customers 15%. TheVitaminShoppe also offers auto-delivery which will save customers 10%.
Guarantee
After a thorough search, we have been unable to find a guarantee or return policy. Although it is unlikely, it is still possible the manufacturer offers a guarantee through third-party websites. Most likely, customers will have to default to the return policy of the website they purchase this product from.
Conclusion of Our Solaray Yeast-Cleanse Review
Solaray Yeast-Cleanse seems to be an okay product for treating yeast infections. It contains natural herbal ingredients, which reduces side effects. In fact, there are no associated side effects with this product. Solaray Yeast-Cleanse is a little more expensive than other products. One bottle will only last for about 15 days. Therefore, customers who use it is consistently will be spending an average of $30 a month. There are quite a few customer reviews about Solaray Yeast-Cleanse. The majority of them are positive. Although, some customers recommend less than six capsules when starting, as it could upset the stomach at first. Unfortunately, there does not seem to be a guarantee or return policy for this product.
Top investigative research brought to you by the experts at Customer Review.