NutraPuris Premium Advanced Probiotic Ultra Blend Review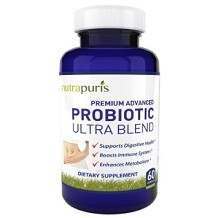 A yeast infection, also known as Candida, can cause many symptoms and/or health issues. Candida is a group of microorganisms that live in your mouth and intestine. When out of control, many people suffer from constant exhaustion and fatigue, brain fog or loss of memory, carbohydrate and sugar cravings, recurring vaginal infections or jock itch, athlete's foot, itchy skin, bloating after eating or other digestive disorders, and many more conditions.
A good yeast infection treatment will help cleanse and detoxify the digestive system and maintain a healthy yeast balance in the intestinal tract which helps support the overall balance of healthy bacteria. Results will vary from person to person, depending on the severity and extent of the yeast imbalance, diet and general lifestyle.
There are many yeast treatments on the market today and it's important to select one that is attacking what is issue in the body and not just treating the symptoms of the yeast infection.
Ingredients
Yeast treatments range in ingredients from all natural and herbal treatments to homeopathic treatments to synthetic treatments. There are many available choices on the market. The ingredients in Nutrapuris Premium Advanced Probiotic Ultra Blend include:
• Unique IS-2 (Bacillus Coagulans) – 75 mg
• NurtaFlora P-95 (Fructooligosaccharide) – 500 mg
• Microcrystalline Cellulose
• Dicalcium Phosphate
• Stearic Acid
• Croscarmellose Sodium
• Magnesium Stearate
• Silicon Dioxide
• Ns Enteric Clear Deionized Water
• Eastacryl 30D Kollicoat Mae 30
• Plasacryl
• Propylene Glycol
Dosage
The manufacturer recommends adults take 1-2 tablets per day on an empty stomach.
Side Effects
No side effects could be identified for this product. As always, with any yeast treatment, contact your doctor before use.
The manufacturer does caution for women who are pregnant or lactating and anyone taking medications or other dietary supplements should consult a health care professional before using this product. Not for use by children under the age of 18.
Price
Internet pricing may vary from website to website. At the time of writing this review this product was found at a price of $49.95 for a bottle of 60 capsules. At the suggest use, this should last you about one month.
Guarantee
Many people want a guarantee as an assurance that if they don't get the results that they are looking for, they will not be punished. Depending on where you buy this product, individual websites may off their own money-back guarantees.
When looking on the manufacturer's website, a guarantee for this product could not be found.
Conclusion of NutraPuris Premium Advanced Probiotic Ultra Blend Review
There are a lot of yeast treatment products on the market, including Nutrapuris Premium Advanced Probiotic Ultra Blend. However, considering the ingredients of this product, its price and the fact that they do not offer a guarantee, a consumer may not think this is the best product for them.
Top investigative research brought to you by the experts at Customer Review.