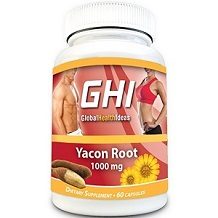 For those of us looking for a metabolism boost, this is a review of GHI Yacon Root, a dietary supplement that will effectively suppress your appetite.  Yacon will also help with constipation, with regulating blood sugars, and with the reduction of belly fat and body mass.
Ingredients
The primary ingredient in GHI Yacon Root is Smallanthus Sonchifolius.
Secondary Ingredients include the following:
Gelatin
Magnesium Stearate
Dosage
The recommended dosage for GHI Yacon Root is one capsule twice daily.  Yacon Root should be taken with 8 ounces of water approximately 30 minutes before eating.
Possible Side Effects
Individuals under medical supervision, children under the age of 18, and women who are nursing and/or pregnant are advised to consult a physician before taking this dietary supplement.
Price
After extensive research, there were no websites advertising the price of this supplement both on the manufacturer's website and third-party sites. Moreover, there was no indication when purchasing information would be updated to the website or why the product was not available for purchase at this time.
Guarantee
There is a 100% satisfaction guarantee policy for GHI Yacon Root, however specific information about the process of returning products could not be found on any websites.
Conclusion of Our GHI Yacon Root Review
Now available in capsules which is a great advantage for those individuals who did not enjoy taking a syrup version of yacon root. GHI Yacon Root helps support productive digestion, is high in both prebiotics and probiotics, and assists with weight loss goals.  GMP certified, it is also rich in antioxidants and offers an attractive satisfaction guarantee policy.
Other competing products on the market sell larger quantities of yacon root per capsule.  Unfortunately, GHI Yacon Root contains only 500 mg of yacon root extract in each capsule whereas other products can be found with 800 mg of yacon root extract in each individual tablet.  Given that yacon is listed as the primary ingredient, the daily total for GHI Yacon Root is 1000 mg (2 capsules of 500 mg each) whereas competitor products offer a total of 1600 mg of yacon root (2 capsules at 800 mg each), which means a total of 600 more milligrams of  yacon per day.  Unquestionably, this differential helps individuals working to lose weight achieve their goals quicker and more effectively. Research shows that the daily recommendation is, in fact, 1600 mg of yacon root a day– not more and not less.
After looking extensively for customer reviews and any feedback overall with GHI Yacon Root, we finally found reviews that were a couple years old.  With a lack of information, it left us guessing about whether the product is considered to be successful at all.  We imagine that if it were considered a highly effective product, there would be more reviews and testimonials available.  Therefore we are reluctant to give this yacon supplement a strong recommendation; we are left second guessing way too much.
Also, it is curious why the manufacturer added gelatin to this otherwise vegetarian supplement.  Competitive products offer a pure yacon extract with no additional ingredients added, and no fillers or binders, and therefore completely vegan-friendly.
Top investigative research brought to you by the experts at Customer Review.