Yacon Syrup Premium Review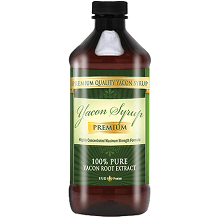 Obesity rates today are the highest they have ever been. Many people who try to lose weight, fail, which can be disheartening, to say the least. This has brought about an emergence of weight loss products on the market. However, not all of these products have had much thought put into them about producing positive results. Some manufacturers are just out to make a quick buck. So it is important to do your research carefully. This review examines the product Yacon Syrup Premium which is designed to help you lose weight. The manufacturer states that this product contains only pure ingredients with no added binders, fillers, or artificial ingredients. It is formulated according to clinical studies and it is manufactured in a facility that is FDA registered and cGMP certified. Yacon Syrup Premium also complies with the quality guidelines of the US Pharmacopeia.
Ingredients
The only ingredient found in this product is Yacon Syrup containing 50% FOS (Fructooligosaccharides). This is what was found in a clinical study as the most effective potency. Yacon is a root vegetable which is native to the Andes region of South America. It has traditionally been used for many things. Today, it is popular for losing weight. FOS is the part of the Yacon that provides it with its many benefits, and this product fits the bill of containing the necessary amount of FOS to produce weight loss results. FOS is believed to curb appetite and stop your body from storing more fat.
Dosage
The recommended dosage is one teaspoon, three times a day, before meals. You can add it to your tea and coffee as a sweetener, or you can even pour it directly over pancakes.
Possible Side Effects
As this product is all-natural, there should be no unwanted side effects. It is important for pregnant and nursing women and anyone with a history of medical problems to speak to a doctor before using this supplement.
Price
You can buy Yacon Syrup Premium online from both the manufacturer's website and Amazon. The manufacturer offers some attractive purchasing options to suit your needs. To be able to buy in bulk and save money is very appealing for a weight loss product. One bottle costs $48 and there are different multi-bottle options. Three bottles will cost $30 each, four bottles will cost $28 each, and six bottles will cost $23 each. This is great value for money.
Guarantee
The manufacturer offers a 90-day money back guarantee. If you are not happy with the results, you can return both opened and closed bottles for a refund. This allows you to try out the product completely risk-free for three months which should be more than enough time to determine if the product is working for you.
Conclusion of Our Yacon Syrup Premium Review
This looks like a very worthwhile product to try. It contains only pure and natural ingredients that have been proven to work. It is manufactured in a facility that follows industry standards for quality and safety. It also comes with attractive prices and a great guarantee. There doesn't seem to be much to lose with trying this product.
Top investigative research brought to you by the experts at Customer Review.