Nutra Beauty Nutrition Forskolin Extract Review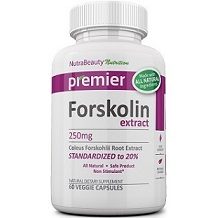 This is a review of Forskolin Extract. It can promote the breakdown of fats stored in human and animal fat cells and aid with weight loss. It can also increase lean body mass by releasing fatty acids and increasing thermogenesis.
Ingredients
The only ingredient found in this formula is Coleus Forskohlii extract 20%. It is said to melt away belly fat, ignite the body's metabolism and aid with weight loss.
Other inactive ingredients found in this formula are vegetable cellulose and rice flour. It contains no artificial ingredients, preservatives, shellfish, soy, milk, eggs, wheat or peanuts.
Dosage
One capsule should be taken twice daily. For best results take the capsule half an hour before a meal with a glass of water.
Possible Side Effects
A healthcare practitioner should be consulted before you start to use this product – when using any other prescription medication, or when you are pregnant or breastfeeding.
Price
One bottle with 60 capsules (one month's supply) can be purchased for $9.95. We find this to be a very affordable option. There are currently no trial options available.
Guarantee
The manufacturer offers a satisfaction guarantee for 30 days after purchase. If you are not happy with your purchase, it can be returned for a refund or exchange. You can do this by emailing their customer care department. The customer is, however, responsible for the handling and shipping fees. They do not mention, however, in what state the product should be in – for the offer to be valid.
Conclusion Of Our Forskolin Extract Review
After we reviewed BeautyNutrition's Forskolin Extract, we found that it will assist with weight loss, by melting away body fat, increasing lean body mass and igniting the body's metabolism.
The 500mg prescribed dosage per day is the perfect amount of Forskolin needed and we also find that the price is really good at $9.95 for one month's supply.
It is a bit concerning that your healthcare practitioner should be contacted before you start using the product – when you are using other prescription medication or when pregnant or breastfeeding. It is a bit concerning in terms of how safe the product really is. The manufacturer does offer a 30-day refund or exchange if you are not completely happy with your purchase. The customer is, however, responsible for the shipping and handling fees and it is not stated in what state the product should be in when returning it.
After doing a lot of research, we couldn't find any customer reviews on this product. This might be a bit of a setback to some future-clients, as many clients prefer to read about other clients' experiences before making a purchase. This is especially important when clients are trying out a brand new product.
There are similar products on the market for which the manufacturer offers up to a one year guarantee. There are also many customer reviews available for similar products.
Top investigative research brought to you by the experts at Customer Review.