MaritzMayer Super Yacon Syrup 1000 Review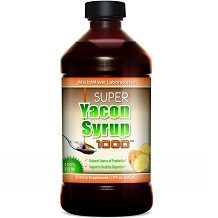 Boosting your immune system, helping with digestion, and aiding your weight loss goals, this is a review of Super Yacon Syrup 1000 which is packed with prebiotics that speeds up your metabolism.  Yacon, a plant that grows in the northern and Central Andes, contains Fructooligosaccharide (FOS) which benefits individuals seeking probiotic support to boost their immune system.
Ingredients
The primary ingredient in Super Yacon Syrup is Smallanthus Sonchifolius (Yacon Syrup). One teaspoon of the product contains 14 mg of Potassium, 7 mg of Calcium, and less than 1 mg of Magnesium.
Dosage
Adults should take 1 tsp (4.9 ml) three times a day.  The product label lists no other instructions regarding how the product should be taken.
Possible Side Effects
The manufacturer lists no side effects.
Price
The purchase price for Super Yacon Syrup 1000 is $29.95 per bottle plus shipping and handling which is $5.99 for an 8-ounce bottle for a total of $35.95.  For orders over $69, the manufacturer includes free shipping to US addresses. The manufacturer ships to select international addresses but no information was provided on the manufacturer's website listing which countries were included.
The manufacturer offers a two-pack special for $44.95 which is marketed as buying one bottle and getting the second one at half price. With the dosage and number of servings in each 8-ounce bottle, users should expect to need approximately two bottles a month of Super Yacon Syrup 1000.  In our review of the competitive products on the market, multiple bottles can be purchased for as low as $23/bottle.
Guarantee
There is certainly an attractive guarantee for this product.  For both unused and used bottles, customers may send the bottles back to the company and request a full refund.  There was no information about the time frame for the returns, but the product should be returned in good condition.
Conclusion of Our Super Yacon Syrup 1000 Review
With 100% natural products being so attractive to consumers today, Super Yacon Syrup 1000 is certainly an attractive option for individuals who are hoping to curve their appetite and do it the natural way. The manufacturer is confident in its product to offer a full money back guarantee so that is certainly attractive to consumers.
We were surprised to find absolutely no reviews of this product on the manufacturer's websites, but third-party websites mention that a major obstacle with the syrup is that it is thick and often congealed so that it was hard to pour and measure out the proper dosage.  Other reviews complain about the taste was unpalatable, but the majority of the dissatisfaction was that there were no weight loss results using the product.
We were able to find many other yacon syrups on the market, and those where the dosage was slightly higher than 4.9 ml per serving for faster results.  These are sold at a more competitive price, and the products can be purchased in larger multi-packs to save you significantly.  And with a money back guarantee for these competitive products and pages of user reviews testifying to weight loss success stories, it was easy to be pulled in the direction of those products.
Top investigative research brought to you by the experts at Customer Review.