Sunbiotics Organic Potent Probiotics with Organic Yacon Root Prebiotics Review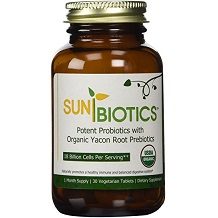 The following review is for a product called Sunbiotics, Organic, Potent Probiotics with Organic Yacon Root Prebiotics. This product claims to naturally promote a healthy immune and balanced digestive system. It claims to be a superfood renowned for its prebiotic properties. The product stresses that 'probiotic' simply translates to "for life". It claims to help restore a proper balance of flora in the digestive system depleted by stress, antibiotics, and gastrointestinal disturbances.
Ingredients
Organic Yacon Powder, which is a Peruvian root high in fructooligosaccharides (FOS) acts as a prebiotic in your digestive tract. There is also a synergistic blend of 4 of the most researched friendly bacteria strains to aid in digestion.
The Prebiotic Blend is 250 mg
Organic Raw Yacon Root Powder
Probiotic Blend 50 mg

Lactobacillus acidophilus
Lactobacillus acidophilus is a type of bacteria found in your intestines. It's a member of the Lactobacillus genus of bacteria, and it plays an important role in human health. Its name gives an indication of what it produces — lactic acid. It does this by producing an enzyme called lactase. Lactase breaks down lactose, a sugar found in milk, into lactic acid. Lactobacillus acidophilus is also sometimes referred to as L. acidophilus or simply acidophilus.
Bifidobacterium bifidum is a bacterial species of the Bifidobacterium genus. B. bifidum is one of the most common probiotic bacteria that can be found in the body of mammals, including humans.
Bifidobacterium lactis is one of the most versatile and hardest working for the human body. Similarly to other strains, this lactic acid bacteria can help fight lactose intolerance and boost the immune system. In addition to these benefits, B. lactis may also support healthy cholesterol levels, ease ulcerative colitis, and even combat the effects of celiac disease.
Bifidobacterium longum is an amazing probiotic that boosts immunity. This bacterium can improve allergies, Celiac disease and IBS, and has many other health benefits.
Other ingredients include:
Organic Coconut Sugar

Organic Vanilla Flavor

Silica
Their probiotic strains are free of dairy, soy, GMOs, wheat, eggs, yeast, sugar, corn, carriers, artificial flavors and preservatives.
Dosage
It is suggested to chew or swallow one tablet each day with or without food. It is quite nice having the option to chew the tablet as most tablets only offer the option of swallowing. Since there are 30 tablets per bottle, the product should last you roughly one month.
Possible Side Effects
There has only been one case of anaphylactic shock as a reaction to yacon root ingestion in one individual with a strong allergy to the plant.
Price
When purchasing online, the cost is $21.13 per bottle, saving you 30%.  If you buy 3+ you save 5%. If you buy 12+ you save 10%. We find this to be not such a great discount as there are options online offering you much bigger discounts for bulk purchases. What it doesn't inform you straight away is that the shipping costs you $13.69 so the actual total is $34.82.  
Guarantee
There is no guarantee. The guarantee depends from which health site you buy this particular product from.
Conclusion: Sunbiotics Potent Probiotics with Organic Yacon Root Prebiotics Review
This product seems to be good. The only thing that concerned us was the fact that we could not find a guarantee and the fact that there was not a really big discount given for bulk purchases.
Top investigative research brought to you by the experts at Customer Review.