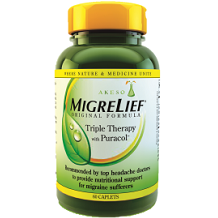 Migraines are debilitating to increasing numbers of individuals today, and efforts to find the best product to alleviate the severity of a headache during the actual attack is widespread.  But in addition to the pain management issue, efforts to find the best way to prevent migraines is key.  We are reviewing a product today called Migrelief which is produced by Akeso.  It is available for individuals who are 12 years old or older.  The manufacturer claims with their triple layer of relief with their key ingredients, that they provide a palpable answer for those suffering from migraines.
Ingredients
The main ingredients are as follows:
Riboflavin (Vitamin B2) – 400 mg
Magnesium (Citrate and Oxide) – 360 mg
Puracol Feverfew (Whole Leaf and Extract) – 100 mg
Other Ingredients in this product are Dextrates, Powdered Cellulose, Vegetable Gum, Stearic Acid, Sodium Starch Glycolate and Silicon Dioxide.
This product does not have gluten, yeast, corn, wheat, soy, sugar, sodium, artificial colors, milk, salt, flavorings or preservatives.
Riboflavin is known to help reduce the recurrence rates and frequency of migraines. A lack of sufficient Magnesium has been linked to people who have migraines, and is key to reduce vasospasm during a migraine attack. Puracol Feverfew is the Akeso's proprietary source of Feverfew which reduces migraine occurrences and also is known to reduce the severity of migraines during attacks.
We were surprised to see the impressive ingredient list for this product not include two items:  Butterbur which is a headache preventive that has anti-inflammatory and muscle relaxant effects, and Piperine which is made from black pepper which increases the bioavailability of supplements.
Dosage
The dosage instructions of this product state to take one capsule two times a day, ideally with a meal.
The best results for this product can be seen after the supplement has been in your system for ninety days.  Immediate results should not be expected.
Possible Side Effects
This product is not intended for individuals under 2 years of age, and for women who are pregnant or nursing. The following are side effects listed by the manufacturer:
Allergic to the product itself
Transient diarrhea from the Magnesium
Gastro-intestinal issues
Riboflavin can cause the urine to turn an orange-yellowish color – which is normal and should not be a cause for alarm.
A headache, achiness, and feeling tired

f

rom the Feverfew.  If this happens, taper off the product over the course of a week, then every other day, and then completely stop taking the product.
Before surgery, this product should be stopped to reduce the risk of any type of excessive bleeding.
Price
To buy this product from third-party retailers, one bottle containing 60 tablets costs $23.98.  From the manufacturer, one bottle of Migrelief costs $19.00, three bottles cost $54.99, and six bottles cost $109.98.  There is also a MigreLief travel size bottle now available with 14 caplets for $6.99. Free shipping is available for purchases of 3 or more bottles.
A bottle that contains 60 capsules is a one month supply of this product. It is advisable to do comparative shopping to be sure you are getting the best prices available on the internet at the time of purchase, including shipping costs.
Guarantee
MigreRelief offers a 30 days policy only for new customers trying their product.  The only returns you can make are for unopened and unused products.
Conclusion – Akeso Migrelief Review
The manufacturer's website is impressive and the supplement appears to be solid and well researched. However, the product is missing two ingredients known to help migraine suffers (Piperine and Butterbur) significantly.  But our chief concerns with this product is the number of side effects that are listed, along with the negative reviews that we saw about consumers feeling like this product did not help them.  And because the manufacturer's policy for returns and satisfaction is so weak, it does not inspire confidence in the product at all.  We encourage you to try other well-established migraine supplements that come at a more attractive price point and also generous satisfaction guarantees.
Top investigative research brought to you by the experts at Customer Review.