Clear Products Clear Migraine Review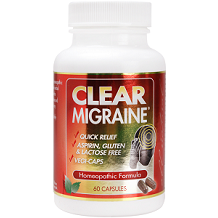 Today we review Clear Products Clear Migraine. This homeopathic, vegetarian supplement is specially formulated with herbs to help relieve the symptoms associated with migraines. Without the addition of medicines that could cause dependency, these capsules will stop your migraines without you feeling like you rely on this supplement.
Ingredients
Hypericum
Iris Versicolor
Kali Bichromicum
Natrum Muriaticum
Sanguinaria
Spigellia
Many times, migraines are caused by imbalances in your body's vitamin and mineral levels. Most migraine supplements combat that by adding vitamins and minerals to their formula. While this ingredient list has some herbs that will help ease the pain of a migraine, it will not help prevent the problem by restoring your body to the correct levels of vitamins it needs.
Dosage
As you feel the beginning of a migraine, you should take 3 capsules. Continue taking 3 capsules every 3-4 hours that your migraine continues. You should not take more than 12 capsules in a 24 hour period. The manufacturer also lists helpful tips to use alongside this supplement. Regular exercise and good sleep can help prevent migraines. Additionally, a massage or warm bath can work together with this medicine once a migraine has started.
Possible Side Effects
This supplement increases the risk for bleeding and bruising. Therefore, if you have any medical conditions involving the blood, you should speak with a healthcare physician before beginning this product. Also, this product comes with the California Prop 65 warning. This warning states that some of the used ingredients are known to cause cancer and birth defects.
Price
Each bottle contains 60 capsules. For a dose that involves up to 12 capsules per day, this bottle will only last through 5 migraines. The bottles costs $16.99. For only 5 migraines, this makes the price rather high. Additionally, we found no available discounts for this product.
Guarantee
If you purchased this product directly through the manufacturer's website or phone number, you are eligible for a 90 day return policy. To receive a refund for your product, you must call and speak with a customer service representative who will ultimately decide if you are eligible for a refund.
Conclusion of Our Clear Products Clear Migraine Review
There are a few things we like about Clear Products Clear Migraine. This supplement is homeopathic, vegetarian, and gluten free, making it easy for everyone to take. Also, the herbs used in the ingredients list are proven to help stop the pain associated with chronic headaches.
Unfortunately, we found many concerns with this product. While this will help to stop your symptoms, there are no ingredients to help stop future migraines from causing more pain. Secondly, there were many warning, including the California Prop 65 warning. Next, the price is rather high for a bottle that will only help with 5 migraines. Lastly, if you find yourself unhappy with this supplement, your destiny is up to whomever you speak to on the phone, as they could deny your return request. For these reasons, we cannot recommend this supplement to migraine of chronic headache sufferers.
Top investigative research brought to you by the experts at Customer Review.