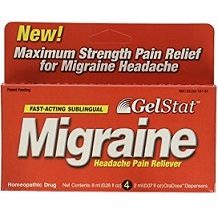 Science has yet to find a common link that threads together what triggers a migraine. Every person can have their own individual trigger but needless to say, migraines can be debilitating. It is estimated that 31% of migraine sufferers will miss at least one day of work every three months. With so many different migraine treatments available on the market, it can be hard knowing which will offer real results. This Gelstat Migraine review is going to take a closer look at the facts and details to learn more about how this migraine treatment works and to see if it's worth trying out for effective results. The manufacturer claims that their their product will offer migraine relief within minutes and without any significant side effects. They claim to use an innovative sublingual delivery system for rapid absorption of the all-natural ingredients for rapid relief of migraine pain.
Ingredients
Ginger
Ascorbic acid
Glycerin
Maltodextrin
Potassium Sorbate
Purified water
Silicon Dioxide
Xanthan Gum
Feverfew is a perennial plant that can prevent migraines from occurring. Studies have shown that participants who took feverfew saw a decrease in the amount of migraines they were experiencing. Ginger is believed to treat migraines by blocking prostaglandins which stimulate muscle contractions, control inflammation, and impact hormones. It is unknown how Ascorbic acid works in treating migraines but studies that have been conducted demonstrate that participants who took Ascorbic acid experienced fewer migraines. There have been studies done that show that a side of Glycerin can be migraines. We were unable to find any information about why the manufacturer chose to include this ingredient in their formula.
Dosage
The manufacturer packages the proper dosages in already measured prepackaged dispensers. Upon feeling the onset of a headache dispense the entire contents of one dispenser under your tongue and hold in place for a minute before swallowing. Repeat this process five minutes later with a second dispenser. You can take an additional serving a half an hour after if you feel you need it.
Talk to your doctor before taking Gelstat if you are pregnant, nursing or have a known medical condition.
Possible Side Effects
We were unable to find any associated side effects.
Price
You can purchase Gelstat directly from the manufacturer and from third-party retailers. One box which has enough product to treat two migraines costs $49.95. They offer two bulk purchasing packages. You have the option to purchase a package six boxes that will treat twelve migraines for $29.85 or a package of 24 boxes that will treat 48 migraines for $84.99.
Guarantee
The manufacturer offers a money-back guarantee without a time limitation.
Conclusion of Our Gelstat Migraine Review
Gelstat Migraine appears to be a promising migraine treatment. Its ingredients have been shown to contain properties that can reduce the severity of migraines and it comes in prepackaged dispensers for convenience. However, while the prepackaged portions appear to be a smart idea, depending on how often you are prone to migraines, it can cause the costs of taking this treatment to add up. One box with enough treatments to treat two migraines costs almost $50! The product is sold by how many treatments it can treat as opposed to number of capsules that you can take at your own discretion. You are better off choosing a migraine treatment that is affordably priced and has been shown to be effective.
Top investigative research brought to you by the experts at Customer Review.