Webber Naturals Coenzyme Q10 Review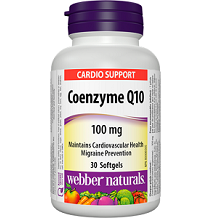 Webber Naturals Coenzyme Q10 is a dietary supplement that can be taken along with a healthy diet to increase levels of coenzyme Q10 in the body. Coenzyme Q10 is associated with increasing energy levels in the body and protecting cardiovascular health. In this review, we evaluate the effectiveness of this product to decide if it is the best formulation of a coenzyme Q10 supplement on the market.
Ingredients
The active ingredient in this supplement is coenzyme Q10. Coenzyme Q10 is a small molecule that is able to accept electrons from some proteins and donate them to others. This ability allows coenzyme Q10 to feature in the electron transport chain during cellular respiration – the process through which cells generate energy. This process generates up to 95% of the cell's energy. So taking in more coenzyme Q10 in the form of this supplement will improve a person's energy generating ability.
Its electron shuttling ability also allows it to neutralize dangerous chemicals that are present in a cell because of the cell's metabolism. Without coenzyme Q10, these toxic chemicals would build up and cause damage to the cells which leads to inflammation. Inflammation increases the risk of developing cardiovascular disease and cancer.
The packing material that is used to give the softgel its consistency is gelatin.
Dosage
Every day, one softgel must be taken with a meal, preferably one which contains fats (for the best absorption results). Webber Naturals offers a number of dosage options from 30 mg to 200 mg per capsule.
Possible Side Effects
Although the manufacturer does not specifically mention it, coenzyme Q10 can interact with serious chronic medications like Warfarin, which is used to prevent clot formation in people at high risk of a heart attack or stroke. Individuals who take chronic medication, as well as pregnant or nursing mothers should consult a healthcare professional before using this supplement. The gelatin that is used as a packing material is not suitable for vegetarian or vegan consumption.
Price
Depending on the dosage that a person chooses, they will pay a different price. The pricing for the dosage options are as follows:
$9.46 for 30 mg (120 capsules)
$9.46 for 60 mg (60 capsules)
$11.04 for 100 mg (60 capsules)
$14.18 for 150 mg (60 capsules)
$20.97 for 200 mg (60 capsules)
Depending on which third-party retailer the person chooses, they may receive additional discounts and subscription offers.
Guarantee
The manufacturer does not offer a guarantee because they do not sell the product directly through their own platform. There are other manufacturers which do you offer a guarantee despite the fact that they use only third-party retailers so this is not an entirely valid explanation.
Conclusion of Our Webber Naturals Coenzyme Q10 Review
This product is offered at a reasonable price and contains all-natural and scientifically supported ingredients. The directions for use are also easy to follow. The fact that the manufacturer offers so many different doses at so many different prices suggests that they have not done extensive research to determine an optimal dose. This may lead to the product being ineffective. Purchasing this product is fairly risky because there is no guarantee to protect the customer.
Top investigative research brought to you by the experts at Customer Review.