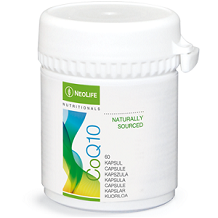 Today we review NeoLife CoQ10. B using new technology to deliver high quality, natural CoQ10, this supplement claims to offer additional support to those who natural lose their CoQ10 due to age or other natural causes. With quick dissolve capsules, the absorption of this supplement begins only 2 minutes after digestion.
Ingredients
Rice Bran Oil
Coenzyme Q10
Phytosterol Concentrate
L-cysteine
Grape Skin Extract (standardized to 30% polyphenols)
Sunflower Lecithin
Grape Skin extract (standardized to 10% resveratrol)
Every two capsules contains only 100 mg of CoQ10. Clinical research proves that the optimal daily dose to help improve your heart health is 250 mg per day. This serving offers less than half of the needed amount. Additionally, the only added ingredient into a CoQ10 supplement should be BioPerine which helps with bioavailability and absorption. The rest of these ingredients are not needed in a supplement like this.
Dosage
Two capsules should be taken daily with a meal. With only taking this one dose per day, you will be getting less than half of the recommended amount of CoQ10. This shows that this specific supplement will be less effective than other similar products.
Possible Side Effects
Children under the age of 18 should avoid using this supplement. Also, it is important to remember than dietary supplements, like this one, are not a replacement for a healthy and balanced diet.
Price
In order to purchase this product direct from the manufacturer, you must make an account with them. This account includes putting in your doctor or other type of distributor. Unfortunately, you could only select physicians from the UK. It also seems that shipping is only available within the UK. One bottle of this supplement has 60 capsules. While the price per bottle is listed at 41.20, it is not stated which currency this is in, so we are unable to transfer the purchase price into USD.
Guarantee
After a thorough search of the manufacturer's website, we were unable to find any information regarding a money back guarantee or a return policy. While they do have a contact page with phone numbers and an email form, without blatant information regarding refunds, it seems that you will be stuck with your purchase, even if you are unhappy with the product.
Conclusion of Our NeoLife CoQ10 Review
There are a few things we liked about NeoLife CoQ10. This supplement comes in an easy to remember, once per day dose. Also, there were no real side effects listed for this product.
Unfortunately, we had many concerns with this supplement. The amount of CoQ10 per dose was less than half of the scientifically recommended daily amount. Secondly, with all of the added ingredients, the overall effectiveness of this supplement will become muddled. Next, we were unable to truly identify the price of this supplement, since the currency was not listed for the price and accounts are not available for US citizens. Lastly, we found no information regarding a money back guarantee for this supplement. For these reasons, we cannot recommend this product to help you improve your heart health.
Top investigative research brought to you by the experts at Customer Review.