Vimerson Health CoQ10 Ubiquinone Review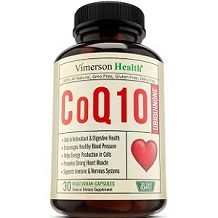 Today we will review a product manufactured by Vimerson Health, called CoQ10 Ubiquinone. Coenzyme Q10 is used by every cell in the body to produce energy and act as a strong antioxidant, hence the reason for using it in this product. It claimed to helps promote a strong heart muscle, support the immune and nervous system, encourage healthy blood flow, and also with energy production in the cells. As a result, it should help improve heart conditions and control blood pressure. Read our full review below to see what Vimerson Health CoQ10 Ubiquinone can do for your heart health.
Ingredients
The main active ingredient found in this product is 200 mg Coenzyme Q10 (Ubiquinone). This ingredient is used for energy production by the cells in your body and also acts as an antioxidant that helps protect against cellular damage from free radicals. It is claimed to help with cardiovascular health, immune and brain support, as well as digestive health. We do see however that this product does not contain BioPerine, which would help with absorption and bioavailability. Lack thereof may lower the effectiveness of the product. It does not contain antibiotics, hormones, preservatives, soy, yeast, binders, or artificial flavors. The capsule is made from vegetable cellulose and rice bran, which makes it vegan friendly.
Dosage
The manufacturer suggests that users use this product as a dietary supplement. Take 1 capsule per day, 30 minutes before a meal with a full glass of water. They recommend that one use this product alongside a healthy diet and regular exercise if you want to achieve best results. A minimum of 250 mg per serving is essential for optimal effectiveness. This product only contains 200 mg per serving.
Possible Side Effect
Users must not exceed the recommended dosage. If you are under the age of 18, pregnant, or lactating consult a healthcare professional before use.
Price
Vimerson Health CoQ10 Ubiquinone can be purchased online from the manufacturer's website. A single bottle will cost $19.30. It has been marked done from $31.68. The product cannot be purchased in bulk, which is quite disappointing if one wants to use the product long-term.
Guarantee
The manufacturer offers a 100% risk free money-back guarantee. A customer who is not satisfied with the product must send them an email requesting a refund. This is a very weak return policy as it does not state the period of time when within it must be returned and also, does not indicate if the products may be opened and used or if they must be returned sealed.
Conclusion of Our Vimerson Health CoQ10 Ubiquinone Review
After our review of Vimerson Health CoQ10 Ubiquinone, we found a few things we liked. The manufacturer offers a discount on their product and it comes in easy to swallow capsules.
Nonetheless, there were also a few things we did not like about the product. Firstly, it lacks a vital substance on the ingredients list, namely, BioPerine. Since it does not contain this ingredient, it might lower the absorption and bioavailability and consequently lower the effectiveness thereof. Furthermore, it only contains 200 mg per serving, where the minimum is 250 mg per serving based on clinical studies. Finally, the manufacturer offers a very weak guarantee that may lead to a misunderstanding and further complications. To avoid these problems, we recommend trying a different product to Vimerson Health CoQ10 Ubiquinone.
Top investigative research brought to you by the experts at Customer Review.