Nu U Nutrition CoQ10 Review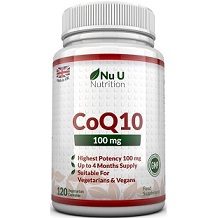 The subject of this review is a dietary supplement called Nu U Nutrition CoQ10. Coenzyme Q10 or CoQ10 is made naturally in your body and stored in cells to provide them with energy to function. Unfortunately, this substance reduces as one gets older. That is why the manufacturer has provided their customers with a product that is filled with CoQ10 to help restore the level that is needed in the body for optimal cellular functioning. Read on to see what Nu U Nutrition CoQ10 can do for you and if it is worth trying.
Ingredients
Coenzyme Q10
Bulking Agent (Maltodextrin)
Capsule Shell (HydroxyPropylMethylCellulose)
Anti-Caking Agent (Magnesium Stearate, Silicon Dioxide)
There is one main active ingredient in this product called Coenzyme Q10 which claims to help increase energy levels in cells for optimal cellular function. The capsules are vegetarian and vegan friendly. The product does not contain BioPerine, which is an essential ingredient that works with CoQ10 and which helps with absorption and bioavailability thereof. Lack of this ingredient may make Nu U Nutrition CoQ10 less effective.
Dosage
One capsule should be taken per day with water and a meal. One may also consult their healthcare professional on how to take the capsule. These dosage instructions will leave a user in doubt as it does not indicate when in the day is the best time to take it. Another concern is that the a single serving size only provides 100 mg of CoQ10, yet the recommended serving size for the product to be effective is 250 mg.
Possible Side Effects
The product is not intended for persons under the age of 18. Women who are pregnant or lactating should not use this product unless their healthcare professional has directed them to do so. The manufacturer states that side effects from this product are rare. However, if there are any possible side effects, one must discontinue use thereof and see a doctor.
Price
The product can be purchased from the manufacturer's website. A single bottle contains 120 capsules which will last 4 months. The product is on sale for $25.31. The original price is $39.12. Due to a single bottle lasting 4 months and the low price, it may indicate low quality ingredients or ineffectiveness.
Guarantee
The manufacturer offers a very weak return policy. One does have 60-days in which one may return the product, however, it must be sealed and in its original packaging. This does not allow first time users to test the product and see if it works for them.
Conclusion of Our Nu U Nutrition CoQ10 Review
This review has provided us with a few positive aspects of Nu U Nutrition CoQ10. The product comes in easy to swallow capsules and the manufacturer provides the customer with a sale on their product.
Nonetheless, we also came across many negative aspects that need to be addressed. Firstly, the product does not contain BioPerine which is essential for faster absorption and bioavailability. This could hinder the effectiveness of the product. Furthermore, it does not contain a minimum of 250 mg CoQ10 per serving, yet only 100 mg. This could also hinder the effectiveness. Lastly, the manufacturer offers a very weak guarantee. Due to these reasons, we recommended choosing a different CoQ10 product other than Nu U Nutrition CoQ10.
Top investigative research brought to you by the experts at Customer Review.