Doctors Best High Absorption CoQ10 Review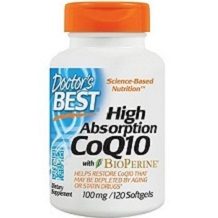 In this review we examine a supplement called Doctors Best High Absorption CoQ10. The supplement claims to improve energy levels, improve stamina and enhance cardiovascular health. All of these effects are brought about by a small molecule in the supplement called coenzyme Q10 (abbreviated as coQ10). Coenzyme Q10 levels begin to reduce in people as they age and can decline as a result of taking certain medications. We dissect the facts about the supplement to determine if it is the best supplement on the market for delivering coenzyme Q10.
Ingredients
Coenzyme Q10 gets its name because it is part of the functioning of other enzymes. Enzymes are special proteins that perform chemical reactions in the body. One of the enzymes that coenzyme Q10 helps to perform its function is the enzyme responsible for producing up to 95% of the cell's energy. The production of energy in a cell is called cellular respiration. Coenzyme Q10 acts in the third part of this process, called oxidative phosphorylation. By increasing levels of coenzyme Q10 in the body by taking this supplement, you can enhance your energy production which can lead to feeling more revitalized.
Coenzyme Q10 is also a powerful antioxidant. Antioxidants remove harsh and toxic chemicals from the cellular environment where they normally cause damage and inflammation.
The black pepper extract is included to improve the absorption of coenzyme Q10 and the gelatin is to provide the consistency of the softgel.
Dosage
The manufacturer recommends taking one softgel per day with food unless otherwise directed by a doctor. The dosage contained in each soft gel is 100mg. This dosage is below the highest dosage available (250 mg) so it may be ineffective for certain users.
Possible Side Effects
Pregnant and breastfeeding women should consult a physician before taking the supplement. Coenzyme Q10 has been known to interact with anticoagulant drugs like Warfarin. It is possible but it may interact with other chronic medication. Potential customers on these kinds of medication should also seek medical advice then. The gelatin that is used as a packing material in this supplement is not suitable for vegetarian or vegan use.
Price
There are two purchasing options for this supplement. 60 capsules will cost $10.39. 120 capsules can be purchased for $12.93. These prices are from third-party retailers as the supplement is not directly available from the manufacturer. The prices also do not include shipping and taxes.
Guarantee
The manufacturer does not offer any form of guarantee on this product. This suggests that they are not completely confident in the effectiveness of their own product as they may be worried they will be returning too much of their customers' money.
Conclusion of Our Doctors Best High Absorption CoQ10 Review
The price of the supplement is quite reasonable and the scientific basis for its claims is quite conclusive.
We have some concerns about the possible effectiveness of this product because the dosage is quite low. We also find the customer service to be quite lacking because the manufacturer does not appear to be concerned with their customers' satisfaction with the product.
Top investigative research brought to you by the experts at Customer Review.