Lumen Naturals CoQ10 Review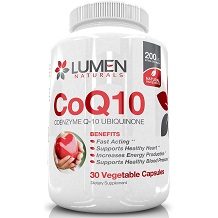 Read our review below about a product called Lumen Naturals CoQ10, which is intended to help manage and support heart health, energy production, and a healthy blood pressure. The manufacturer claims that this product is good for individuals who are older than the age of 30 if they take it everyday. Furthermore, they claim that this product keeps the heart pumping strong.
Ingredients
The main ingredient is Coenzyme CoQ10. CoQ10 helps in the production of adenosine triphosphate that exists in parts of the body that use energy the most, such as the heart, kidneys and liver. CoQ10 is able to prevent oxidation and bad cholesterol, which prevents the risks of getting diseases.
Other ingredients: Cellulose and rice bran
Dosage
The recommended dose is one capsule taken with a glass of water two times a day. For optimum results, it is advised that you take it 20 to 30 minutes before your meals or as advised by a healthcare professional.
Possible Side Effects
Individuals who are pregnant, breastfeeding or under the age of 18 should talk to the doctor before using Lumen Naturals CoQ10. Those who have an existing medical condition or are on medication should also consult with their healthcare professional before using this product, as CoQ10 is known to interact with other healthcare products.
Price
Lumen Naturals CoQ10 can be purchased from the manufacturer's website for a discounted price of $36.99 for 30 capsules, which is much expensive compared to the products of similar nature on the market. The normal price is $39.99. This means that you will pay much more when the promotion is over.  It is double the price if you want it to last for a month, since the dose is two capsules a day.
Guarantee
The manufacturer offers a 60-day money-back guarantee, which is good, as it shows their  confidence on the effectiveness of the product.
Conclusion of Our Lumen Naturals CoQ10 Review
Lumen Naturals CoQ10 could possibly be effective in supporting a healthy heart, blood pressure and energy production. It contains a good amount of Coenzyme CoQ10, which means that it is not too much or too little. The manufacturer shows their confidence on the product by offering a 60-day money-back guarantee. If there were not many good products available at a reasonable price on the market, we would give this product a benefit of the doubt. However, the price is too high, and we do not see anything different between it and other good products that cost less. Considering that the dosage is one capsules twice a day, 30 capsules would only last you 15 days, which then compels you to buy two bottles. Another big concern is that there are only few reviews on the manufacturer's website, and no reviews on the third-party retailers. This is concerning because one should not rely on the reviews on the manufacturer's website because it is possible to manipulate them to suit their needs. Customer reviews are important in providing testimony and helping other customers in making their purchasing decisions. The lack of reviews is not good as it might mean that the product has not been used by many. We recommend that you look for a product that has reviews outside the manufacturer's website and one that is less expensive.
Top investigative research brought to you by the experts at Customer Review.