Metagenics CoQ10 ST-100 Review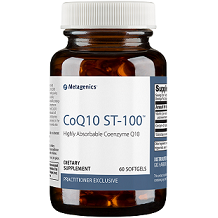 The following review is for Metagenics CoQ10 ST-100. Coenzyme Q10 (CoQ10) is a naturally occurring substance that is essential for energy production and is of particular importance in supporting cardiovascular health. That is why the manufacturer has taken CoQ10 and designed a dietary supplement for the reasons seen above. It is also claimed to have strong antioxidant properties with added cell membrane stabilizing effects. It may also help maintain healthy blood pressure. Keep on reading to see what our review says about Metagenics CoQ10 ST-100 and if it is worth a try.
Ingredients
Vitamin E
D-limonene oil
Gelatin
Glycerin
Medium-chain triglycerides
Water
Turmeric powder
Zinc oxide
CoQ10 found in this product is there to help support healthy cardiovascular health. The vitamin E acts as an antioxidant. The product is lacking a vital key, namely BioPerine, which would help with absorption and bioavailability. Without this, the product may be less effective. Another concern is that it may contain soy, tree nuts, dairy, and fish.
Dosage
The only information provided by the manufacturer is that one softgel must be taken daily. This leaves a user with a lot of questions concerning when and how it should be taken. For example, if it should be taken in the morning or evening, with a meal, after a meal, and if it should be taken with a glass of water. Another concern we have is that a single serving only provides 100 mg, whereas the minimum serving size is 250 mg.
Possible Side Effects
The manufacturer does not provide the customer with information concerning any possible side effects, however, the product may contain soy, tree nuts, dairy, and fish. A person who has one of these allergies will not be able to use this product safely.
Women who are pregnant or lactating and persons using any type of medication should consult their healthcare professional before using the supplement.
Price
A bottle of 60 softgels can be purchased online from the manufacturer's website. One bottle will last 2 months and costs. In order to make a purchase, one must first enter in a practitioner's code or obtain a code by finding a practitioner near you. This is because the product may only be used under the supervision of a healthcare practitioner. The price of the product is not made available. There are no discounts or bulk packages made available.
Guarantee
The manufacturer only offers a 30-day money-back guarantee on closed products which can be resold. These products may only be returned once you have contacted customer services and received a return authorization number. This is a very weak policy as first time users will not be able to try the product risk free.
A conclusion of Our Metagenics CoQ10 ST-100 Review
There are a few positive aspects about Metagenics CoQ10 ST-100 that we were able to find. It comes in easy to swallow softgels and one bottle provides a 2-month supply of product.
However, there are also a few things we do not like about the product. Firstly, it does not contain BioPerine and due to this reason, the effectiveness of the product may be less. Furthermore, only contains 100 mg per serving, in comparison to the minimum serving size of 250 mg as recommended by clinical studies. Finally, the manufacturer offers the clients a very weak return policy as first time users will not be able to try the product risk free. We do not recommend Metagenics CoQ10 ST-100 as an effective dietary supplement for supporting cardiovascular health.
Top investigative research brought to you by the experts at Customer Review.