Cell Labs CoQ10 Plus Review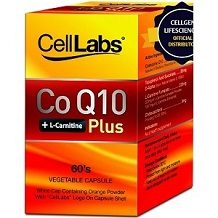 Today we review Cell Labs CoQ10 Plus. Formulated with L-Carnitine Plus, this CoQ10 supplement claims to help triple your energy levels. By also helping your cardiovascular system, this should help to keep your heart healthy.
Ingredients
Coenzyme Q10
Tocopheryl Acid Succinate, D-Alpha
L-Carnitine Fumarate
Cholecalciferol
With only 75 mg of CoQ10 per capsule, this supplement is seriously lacking. Clinical studies show the daily intake of this nutrient should be 250 mg. There is also no BioPerine included in this supplement, which is essential for proper absorption of this nutrient into your body. Also, while the packaging claims these are made with vegetarian capsules, it is stated on the website that the company's flagship products use sheep placenta.
Dosage
After thorough research, we were unable to find any information on dosing for this supplement. There were no directions listed anywhere on the manufacturer's website, and we were not able to find the information on third party sites either. Without this essential information, we cannot properly examine the effectiveness of this supplement. Especially with such a low amount of CoQ10 per capsule, you would need a high dose of this supplement to have the true benefits on your heart health and energy levels.
Possible Side Effects
In addition to the lack of information on dosing instructions, there were also no listed side effects or warnings for this product. This is concerning, because even the safest supplements offer simple warning of what ages can safely use a product, or that you should consult with a doctor before starting a new dietary supplement. Without even these basic warnings, it seems this company has something to hide.
Price
Each bottle contains 60 capsules. One bottle costs $38.93. Without knowing how many capsules one needs to take daily, it is hard to truly establish whether or not this supplement is overly expensive. Knowing that you need 250 mg of CoQ10 per day, you would need to take 3-4 capsules daily to reach that amount, which would cause this to be more expensive than other similar products.
Guarantee
All products and purchases made through this manufacturer are non-returnable, non-refundable, and non-exchangeable. While the company claims they are here to help and they offer an email address and phone number for customer support, the phone number does not have enough numbers to be valid. This shows that the company is not true to its word and does not care about its customer satisfaction.
Conclusion of Our Cell Labs CoQ10 Plus Review
There are a few things we like about Cell Labs CoQ10 Plus. The company claims that this supplement comes in vegetarian capsules. It also offers more than 100% of your daily needed Vitamin E.
Unfortunately, we had far too many concerns about this product. The amount of CoQ10 included in each capsule is extremely low compared to the clinically researched and proven needed amount. Secondly, there was no information whatsoever regarding dosing or possible side effects. Next, the price of this supplement is expensive if you take enough capsules daily to get the recommended 250 mg of CoQ10. Lastly, this supplement is non-returnable and non-refundable, which means you need to be 100% certain with your purchase before paying money for this product. For these reasons, we cannot recommend this supplement to help you increase your energy.
Top investigative research brought to you by the experts at Customer Review.