Optimum Nutrition CoQ10 Review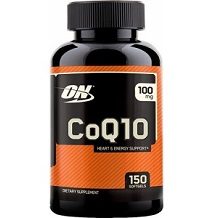 Coenzyme Q10 (abbreviated as coQ10) is included in a variety of supplements on the market that claim to improve energy levels, boost stamina and protect cardiovascular health. But not all coQ10 supplements are created equal. In this review, we take a look at Optimum Nutrition CoQ10, and determine whether it contains the right dosage and if it causes any side effects. We also take a look at the price and if the manufacturer offers a guarantee.
Ingredients
The only active ingredient in this supplement is coenzyme Q10. Coenzyme Q10 is a vitamin-like molecule that helps special proteins perform their functions. One of the proteins that it helps is largely responsible for producing the majority of the energy that a cell needs. The process of producing energy in a cell is called cellular respiration. Coenzyme Q10 features in the third part of cellular respiration which is called oxidative phosphorylation. Without coenzyme Q10, our cells would simply not be able to generate the amount of energy that they do. Increasing levels of coenzyme Q10 will therefore help to increase energy production, making a person feel more energized.
Coenzyme Q10 is also an antioxidant. Antioxidants remove harsh chemicals from the cells and tissues where they would otherwise cause damage. The damage these chemicals cause can result in chronic inflammation which is a major contributor to cardiovascular disease. Thus, coenzyme Q10 also helps to protect the heart.
The coenzyme Q10 is encased in a gelatin package which gives the supplement that soft gel consistency.
Dosage
The manufacturer recommends taking one softgel after each meal. Each serving contains 100 mg of coenzyme Q10. The daily result is  about 300 mg of coenzyme Q10.
Possible Side Effects
Coenzyme Q10 is known to interact with anticoagulant (blood thinning) drugs such as Warfarin. People on anticoagulant therapy should consult a physician before using the supplement. Pregnant women, breastfeeding women and people on other chronic medication should also consider consulting a healthcare professional. The gelatin in this product is not suitable for vegan or vegetarian use.
Price
A package of 150 softgels can be purchased online for $31.99. This price does not include shipping or taxes. This manufacturer does not seem to offer any form of bulk purchasing options that would result in a customer getting a discount.
Guarantee
Optimum Nutrition offers a 30-day money back guarantee for products purchased through the manufacturer. The 30 days begin from the day of purchase not the day of delivery. The manufacturer will also only accept products which are unused or for which at least 75% of the supplements remain.
Conclusion of Our Optimum Nutrition CoQ10 Review
The price of the supplement is fairly reasonable and the dosage is ideal. The customer support services of this manufacturer are quite obviously lacking though. Because they do not produce bulk purchase options, the price and effort of using the supplement long-term is higher. The guarantee is also quite pointless because the time is too short for the customers to test the product and customers may not receive the benefits after having used only 25% of the supplement.
Top investigative research brought to you by the experts at Customer Review.