Ultimate Thyroid Support Review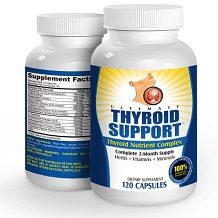 The market has been bombarded with different kinds of thyroid health supplements. With so many choices out there, it is always best to know everything about the product before you decide whether to buy it or not.
In this full review, we will unearth all important information about the product called Ultimate Thyroid Support. This product, as the name suggests, is a thyroid support supplement that claims to help address symptoms related to thyroid problems. These signs and symptoms might include sleepiness, painful joints, sleep problems, and sometimes weight gain.
Ingredients
Vitamin B12 (cyanocobalamin) – 100 mcg
Iodine (kelp) – 150 mcg
Magnesium (oxide) – 200 mg
Zinc (oxide) – 8 mg
Selenium (amino acid chelate) – 200 mcg
Copper (oxide) – 200 mcg
Manganese (amino acid chelate) – 2 mg
Molybdenum (amino acid chelate) – 50 mcg
L-Tyrosine, Schizandra (herb powder) – 300 mg
Schisandra Powder (Fruit) – 240 mg
Ashwagandha Root (herb powder) – 200 mg
Bladderwrack (herb powder) – 50 mg
Cayenne Pepper (herb powder) – 30 mg
Kelp – 38 mg
This dietary supplement contains a mixture of different herbs and minerals that help regulate the thyroid functioning. For example, selenium, molybdenum, zinc, and magnesium ensure that the thyroid cells are working efficiently to secrete or produce two very important hormones (T3 & T4) that are responsible for almost all metabolic activity in the body. Vitamin B12, on the other hand, is a vitamin commonly found in protein products. This water-soluble vitamin plays a crucial role in blood formation, metabolism and other cellular processes. The herbs Ashwagandha root, bladderwrack, and cayenne pepper have long been thought to support sustained energy levels during activity.
Dosage
According to the product's website, this dietary supplement should be taken twice a day with meals or as directed by your healthcare practitioner.
Possible Side Effects
No possible side effects were mentioned on the product's website or its label.  It is very important to not exceed the recommended dose. Pregnant women, nursing mothers, children under 18 years old and people who have a medical condition should check with their doctors first before taking this product. Furthermore, this product is manufactured in a facility that processes seafood, soy, egg, peanuts and other substances that are prone to trigger an allergic response.
Price
This product is available from the manufacturer's website for $21.99 per bottle containing 120 capsules (2 month supply) with free shipping. At the time of writing, there were no available promos or discounts that come with the product.
Guarantee
The product comes with a 60-day money back guarantee. However, it seems that the manufacturer is only willing to accept unopened, unused bottles or undamaged bottles.
Conclusion of Our Ultimate Thyroid Support Review
The product seems to contain many important ingredients which include vitamins, herbs, and minerals that provide a much-needed help for the thyroid gland to function well. The product's dosage also seems to be on par with the current recommended daily intake. With that being said, the product still contains silicone dioxide which is considered a filler, although most research suggests that it is harmless, some people might actually prefer supplements that contain zero fillers or binders. This product is also manufactured in a facility that processes substances that might cause an allergic response, irritation and other problems to people who are sensitive to them.
Top investigative research brought to you by the experts at Customer Review.