Pure Encapsulations Thyroid Support Complex Review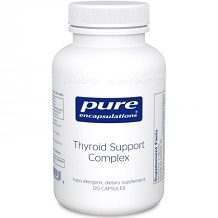 In this review, we will take a closer look at the product called Thyroid Support Complex by Pure Encapsulations. This dietary supplement claims to support the functioning of the thyroid gland and hormone production. It also helps to maintain a healthy thyroid metabolism. The product's website also claims that this product is made with hypoallergenic, vegetarian ingredients with no GMO (Genetically Modified Organisms) and gluten. Continue reading this review and find out more about this product so you'll have all the necessary information needed before you decide the product's worth.
Ingredients
Two vegetarian capsules contain:
Vitamin A (as vitamin A acetate) – 2,500 i.u
Vitamin C (as ascorbic acid) – 150 mg
Vitamin D (as cholecalciferol) (D3) – 200 i.u
Iodine (from kelp powder) – 150 mcg
Zinc (as zinc citrate) – 20 mg
Selenium (as selenomethionine) – 200 mcg
L-tyrosine (free-form) – 500 mg
Ashwagandha Extract (standardized to contain 2.5% withanolides) – 400 mg
Forskolin Extract (standardized to contain 10% forskolin) – 100 mg
Guggul Extract (standardized to contain 2.5% guggulsterones) – 150 mg
Turmeric Root Extract (standardized to contain 95% curcuminoids) – 100 mg
This product contains a mixture of vitamins, herbs, and minerals that have been believed to keep the thyroid from malfunctioning. Vitamins A and D are fat-soluble vitamins that are believed to help prevent hypothyroidism or the condition where the thyroid is not producing enough hormones for the body. The minerals selenium, L-tyrosine, and iodine are also one of the most vital substances that keep the thyroid healthy and functioning normally. In fact, a deficiency of iodine may lead to the thyroid not producing enough of the thyroid hormones. The combination of herbs like guggul, turmeric and forskohlii are believed to provide antioxidation and anti-inflammatory properties.
Dosage
According to the product's website, this product should be taken twice a day, preferably with meals.
Possible Side Effects
There were no possible side effects mentioned on the product's website, However, after careful research, we were able to find out that guggul extract may cause moderate to severe temporary skin irritations. This product should not be taken by pregnant or lactating women.
Price
This dietary supplement is available for an online purchase from the manufacturer's website for $27.10 per bottle containing 60 capsules, which is a one-month supply. You can also purchase a bottle containing 120 capsules for $47.40. However, you are only able to buy from the manufacturer's website if you are a practitioner. If you are not, you will have to buy the product from a practitioner. The manufacturer's website provides a tool for you to find a practitioner near your location.
Guarantee
After careful research, we were able to find out that the product comes with a 30-day guarantee. You need to be authorized by the manufacturer to a return a product and each return will be subjected to a 15% fee. It is not clear if this guarantee also applies if you purchased through a practitioner or if it only applies to those who purchased directly from the manufacturer.
Conclusion of Our Pure Encapsulations Thyroid Support Complex Review
The product seems to contain ingredients that offer many benefits to the thyroid gland. However, the product can be difficult to obtain if you are not a practitioner. There are many natural solutions easily available for purchase online. The manufacturer's guarantee is also not the best out there, not really giving much time to try the product and the conditions for a return are also not very clear. We think there are better alternatives on the market.
Top investigative research brought to you by the experts at Customer Review.