BlueSpring Thyroid Support Formula Review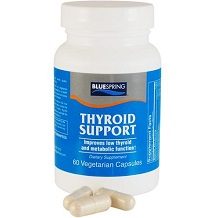 The thyroid is an often misunderstood and underrated gland – until it malfunctions and bodily systems such as metabolism, heat and cold regulation, and energy level malfunction arises. Today we review Thyroid Support Formula 60-ct. Capsules by BlueSpring. It is designed to improve low thyroid function; support a normal metabolism, boost energy, sustain a healthy stress response and help keep your mood levels even and upbeat.
If you're feeling sluggish, down, too hot or too cold, and either gaining pounds or losing weight without trying, you could have an overactive, inactive or underactive thyroid. The thyroid produces hormones T3, and T4, which regulates calorie burn, energy output, sweating and cooling down, and also impacts mood. It is a core engine to the body that runs on its fuel, iodine. Although many modern diets are sodium rich and contain too much salt, they contain far below the 150 mcg daily intake needed for a healthy thyroid. If your thyroid isn't working optimally, you're also likely to have a host of other diseases or ailments such as hair loss and joint ache, brought on by the impact of the malfunctioning thyroid in creating other deficiencies.
Ingredients
Vitamin A (palmitate)
Vitamin C (ascorbic acid)
Vitamin D (cholecalciferol)
Vitamin B-6 (pyridoxine HCI)
Folic Acid
Kelp (Iodine)
Magnesium (oxide, amino acid chelate)
Zinc (monomethionine) from L-Opti-Zinc
Selenium (selenomethionine)
Copper (amino acid chelate)
L-Tyrosine
Green Tea (Camellia sinernsis) Leaf Extract
Gugulipid (commmiphora Mukul) Resin Extract
Ashwagandha (withania somnifera) Root Extract
Bacopin (Bacopa monniera) Leaf Extract
The ingredients are a robust combination of amino acids and iodine needed to produce the two thyroid hormones, T3 and T4. In addition there are plant metabolites (substances needed to ignite and aid metabolism) as well as extra nutrient support from vitamins. Two substances we rarely see in thyroid formulas are Bacopin and Green tea.
Bacopan supports healthy thyroid function, is an antioxidant and, best of all, an adaptogen, so it works in balance with the body wherever it is needed. The compounds within green tea are potent antioxidants, protecting structures like the thyroid from damage. It also induces an alert but calm mental state.
The vitamins offer enhanced support to the thyroid gland in producing T3 and T4, offer immune support and also raise antioxidant levels. They also contribute to boosting feelings of wellbeing, among other things. Tyrosine, kelp,  zinc, copper and selenium also boost thyroid hormone production as they are a mix of iodine and amino acids, both needed in this context. The ayurvedic herbs Ashwagandha and Guggul help ease adrenal gland functioning and boost metabolism respectively.
Dosage
Take 2 capsules daily. One bottle lasts 30 days but you should see an improvement before then, and a big improvement after 60 and 90 days.
Price
You can purchase one bottle for $27.95 from BlueSpring online. There are no retail discounts for buying multiple bottles.
Guarantee
The product is backed by a 60-day guarantee. You may receive a replacement, exchange or refund for any product within sixty days or purchase. You do not need to return the items. However, this applies to a single product only.
Conclusion Of Our Thyroid Support Formula Review
BlueSpring uses quality, tested ingredients belonging to the Neutraceutical category. To qualify,  a botanical extract must be pure and there must be consistency of extraction. It contains a few additional ingredients such as Bacopan, rarely seen. The manufacturer is confident enough to say within how long you should be able to feel improvements  when using their product. However, as a precaution, we would have liked to see the exact amount of iodine contained, as many promising formulas contain either too much or too little.
There are very few reviews from verified consumers available – too few from which to draw conclusions as to average efficacy in practice.  If this is a problem, switch to a trusted manufacturer who has been playing in this space for longer and has readily available consumer reviews to attest to efficacy.
Top investigative research brought to you by the experts at Customer Review.