Best Health Nutritionals Thyroid Performance Plus Review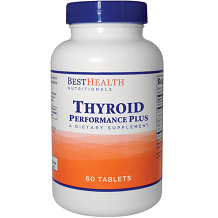 If your thyroid gland is malfunctioning, you'll know how it can cause havoc with your metabolism, mood, fatigue levels and internal heat regulation, among other bodily processes affected. Best Health Nutritionals says it has formulated Thyroid Performance Plus to lend natural support to your thyroid, so your thyroid back into a biological thermostat that burns energy and keeps your energy output at normal levels.
The T3 and T4 thryoid hormones regulate metabolism, your heart rate, your internal body temperature, your mood in part and has an impact on several ancillary bodily processes as well. The thyroid uses iodine to produce its vital T3 and T4 hormones, however most adults don't ingest nearly enough iodine. The recommended daily intake is 150 mcg, with to little iodine being just as bad as way too much.
Ingredients
Iodine
Magnesium
Zinc
Selenium
Copper
L-Tyrosine
ForsLean
Sensoril Ashwagandha
The formula includes Tyrosine and Iodine, which is a derivative of kelp, one of the richest natural sources of iodine. Together, these are two natural elements needed to make thyroid hormones. Zinc, Copper, and Selenium also boost the thyroid's ability to produce the T3 and T4 hormones which regulate thyroid functioning. ForsLean is extracted from forskolin, a south-east Asian and Indian plant that has risen to prominence in the west for being able to promote a healthy metabolism. To counter the feeling of sluggishness and brain fog that either an overactive or underactive thyroid can bring, vitamins are also included. The thyroid gland also uses tyrosine and iodine to make thyroid hormone, and this is why L-Tyrosine is included.
Ashwagandha is also known as Indian Ginseng. It helps lower cortisol, taking pressure off the adrenal system and balances thyroid hormones.
Dosage
Take 2 capsules daily as a dietary supplement. For best results, take one in the morning and one in the evening. Do not administer to children.
Price
There are 60 capsules in every bottle. If you order from the Best Health Nutritionals online shop, the following pricing applies:
1 Bottle – $39.95
3 Bottles – $119.85
6 Bottles – $239.70
Guarantee
The guarantee, remarkably, covers the lifespan of the product. Should you at anytime during the lifespan of a supplement feel it is not working, return it for a no-questions-asked money-back guarantee. Return the unused portions for a full 100% refund.
Conclusion Of Our Thyroid Performance Plus Review
To create the T3 and T4 hormones, the thyroid needs iodine and amino acids – Thyroid Performance Plus is formulated with these as one would accordingly expect. It also contains adrenal gland support, while forskolin  helps with both metabolism and mood regulation. You should be able to see an improvement and feel like 'yourself' again on this supplement.
The guarantee is industry leading as 100%, lifetime guarantees are unusual. The price is on the high side though, considering that one bottle represents a 30-day supply – supplementing your thyroid is something you would do for at least 4 or 6 months. One thing to note is that this product contains 50 mcg iodine per serving, but the recommended daily allowance is 150. An alternative would therefore be to look for a supplement with more iodine per serving, and also the likes of vitamins B1 and B12 for extra support.
Top investigative research brought to you by the experts at Customer Review.