Women's Health Network T-Balance Plus Review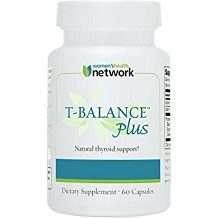 This is a review of T-Balance Plus, a thyroid supplement aimed at solving the problems and symptoms associated with an underactive thyroid. This product seems to be specifically designed for women.
Ingredients
Iodine – 40mcg
Selenium – 120mcg
Proprietary blend (Bacopa Monnieri, Hops, Sage, Ashwagandha, Coleus forskohlii) – 416.7mg
These ingredients help to eliminate the symptoms associated with an underactive thyroid which includes reduced cognitive ability, loss of memory, mood swings, high blood sugar, depression, hair loss, weight gain and several others.
For this T-Balance Plus review and based on our research, however, several essential ingredients for prime thyroid functioning are missing from this supplement. Ingredients like celery, fennel seeds and natural herbs like Bladderwrack, Irish Moss, Motherwort are all absent from T-Balance Plus's formula. As this product contains a blend of main ingredients, it is also not known what the quantities are of each ingredient.
Dosage
Using T-Balance Plus is quite straightforward. We have discovered that the recommended daily dosage is two capsules i.e. a capsule in the morning and one after dinner.
Possible Side Effects
T-Balance Plus has no known side effects, however, some ingredients may lead to side effects if taken in excess. Too much Selenium in the blood could result in possible side effects such as garlic breath, nausea, diarrhea, skin rashes and even brittle hair. In severe cases, high selenium could lead to death. It is important to stick to the recommended dosage of the product. Before starting any supplement it is recommended to speak to your doctor.
Price
Customers can buy T-Balance Plus online from the manufacturer's website for $29.95. One bottle contains 60 capsules, which is a one-month supply. You can also sign up for automatic renewal and then you will only pay $26.96 per bottle. There are no other special offers, vouchers or discounts on the product. Also, Women's Health Network doesn't allow trials and only straight purchases are allowed.
Guarantee
For the sake of this T-Balance Plus review, it is important to point out that though there is a 100% money-back guarantee on the product. The manufacturer states that you can return a bottle within 60 days for a full refund. This applies to both used and unused bottles.
Conclusion of Our T-Balance Plus Review
T-Balance Plus seems to be quite efficient in tackling the problems of an underactive thyroid due to its iodine and selenium ingredients, which are important for prime thyroid health. Also, T-Balance Plus is preservative and sugar free hence making it a good product for diabetics and the general public.
However, several well known herbs and roots essential for thyroid health are absent from the T-Balance Plus formula casting doubt over its ability to properly manage symptoms such as hair loss, depression and other symptoms as it claims. The blend of ingredients in T-Balance Plus also does not allow us to see the actual quantities of the ingredients. There are quite a few reviews for this product on the manufacturer's website, the majority of which are extremely positive. As these appear on the manufacturer's website, we cannot be certain that negative reviews have not been removed. We think it may be better looking for an alternative product that contains a variety of ingredients, with their quantities known.
Top investigative research brought to you by the experts at Customer Review.