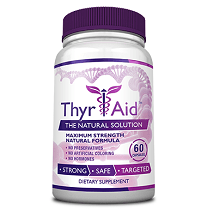 BEST PRODUCT
Here we have a review of ThyrAid. This is an excellent supplement for the health of your thyroid or for helping with hypothyroidism. It ensures the thyroid functions properly and helps with the production of thyroid hormones. It does not simply provide care for your thyroid but also supports the pituitary and adrenal glands, boosts the immune system, helps hormone balance and fights oxidative stress. To discover what we found when we looked into ThyrAid then read more below.
Ingredients
Zinc (Oxide) – Zinc helps converts hormone T4 into T3, promotes thyroid receptor activity and it can cause the pituitary to set off the activity of the thyroid
Magnesium (Oxide) – Prevents a magnesium deficiency, which can cause hypothyroidism, interfering with weight loss and body temperature regulation. Such a deficiency can also lead to mood swings, sleep disorders and depression
Manganese (Sulfate) – Used for fat metabolism, liver antioxidant status and liver function, manganese is required for the production of antioxidant enzyme manganese-dependent superoxide dismutase (MnSOD), which activates thyroid hormones
Selenium (Amino Acid Chelate) – Protects against iodine toxicity effects, which helps people with autoimmune thyroid disorders. It reduces inflammation, protects the thyroid gland and is needed to convert Thyroxine into triiodothyronine
Vitamin B12 (Cyanocobalamin) – A connection has been made between Vitamin B12 deficiency and hypothyroidism. Hypothyroidism can cause hyperhomocysteinemia, which requires Vitamin B12 to help resolve it
Copper (Gluconate) – Working alongside zinc, copper assists in thyroid hormone production. It triggers T4 hormone production, prevents t4 over-absorption and activates Thyroid Stimulating Hormone (TSH)
Molybdenum (Amino Acid Chelate) – Maintains correct pH balance so that oxygen levels do not decrease, as this would lower metabolism and reduce the burning of fat. Molybdenum influences overall wellbeing and metabolism regulation by interacting with enzyme systems
Iodine (Potassium Iodide) – Helps the production of T3 and T4, thyroid hormones, which balance the metabolism and iodine also prevents a poor immune system and free radical destruction of the thyroid
L-Tyrosine – Works alongside iodine to promote production of thyroid hormones. L-Tyrosine is needed to prevent an underactive thyroid, is vital for T3 and T4 production, helps metabolize calories from food and produces dopamine, norepinephrine and serotonin
Ashwagandha (Withania Somnifera) Root – Boosts stress tolerance, rejuvenates the body and enhances levels of thyroid hormone
Schizandra (Shizandra Chinesis) – A liver protective, anti-viral, adrenal tonic and anti-histamine herb that encourages hormonal equilibrium and stabilizes organ function should the body comes under stress. Schizandra also protects against damage from free radicals and toxins
Bladderwrack (Fucus Vesiculosus) – Beneficial for treating hypothyroidism, bladder wrack improves thyroid gland function and regulation, and promotes thyroid hormone production
Gotu Kola (Centella Asiatica) – A nervous system and hormone regulator that increases energy and vitality
Kelp (Ascophyllum Nodosum) – Containing many minerals and vitamins, kelp encourages the growth of healthy skin and hair and is a source of iodine, which plays a vital role in thyroid hormone production
Gugulipid (Commiphora wightii) – Stimulates thyroid hormone production and has anti-inflammatory, immune modulating and antioxidant traits
Coleus Forskohlii (Plectranthus Barbatus) – Stimulates an increase in thyroid hormone production
Microcrystalline Cellulose
Gelatin (capsule)
Silicon Dioxide
Dosage
Adults are asked to take 2 capsules a day alongside meals and for best results, 1 should be taken in the morning and one taken in the evening.
Possible Side Effects
It is not likely that you will experience any adverse reactions to ThyrAid but if you happen to experience any side effects then you must stop taking it and talk to your doctor about it. If you have any queries concerning whether you should take this product or if pregnant, lactating, or taking medications then you must ask a physician about taking ThyrAid before proceeding. It is not recommended that you use ThyrAid if you have hyperthyroidism.
Price
ThyrAid capsules can be bought in bottles from the ThyrAid website. One bottle of capsules sells for $49.95. Two bottles of capsules sell for $69.90. Three bottles of capsules sell for $95.85. Four bottles of capsules sell for $111.80. Five bottles of capsules sell for $124.75. Six bottles of capsules sell for $139.80.
Guarantee
A sixty-day guarantee accompanies ThyrAid. Factory new or opened bottles can be returned to get a refund, provided all bottles from an order are returned together before the sixty-day period ends. The company's customer service must be contacted for a return authorization number and they will explain the details of shipping ThyrAid bottles back to them. The testimonials from customers are quite positive and it is clear that ThyrAid has been well received as well as being effective.
Conclusion – ThyrAid Review
ThyrAid is a top of the range supplement. It is made in a facility that has met the requirements for a GMP classification within the U.S.A. It is a pure, undiluted product that provides the body with the many vitamins and minerals it requires to function correctly. Buying multiple bottles makes ThyrAid cheaper and therefore excellent value for money, especially for such a good product. The dosage is quite high and it is easy to take the required capsules on a daily basis. ThyrAid has many positives and as a result is a product we would recommend.
Top investigative research brought to you by the experts at Customer Review.