Rugged & Dapper Facial Moisturizer Review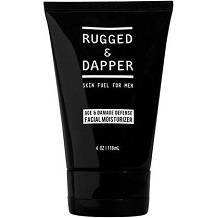 Rugged & Dapper Facial Moisturizer is a product designed for men. In this review, we will take a closer look at the ingredients that aid in age and damage defense. The great thing about it is that it is a hydrating facial moisturizer as well as a soothing aftershave lotion. Keep on reading to see what other benefits are offered by Rugged & Dapper Facial Moisturizer.
Ingredients
Aloe vera
Palm oil
Silk protein amino acid blend
Kosher vegetable glycerin
Cetyl alcohol
Stearic acid
Glycerin stearate
Safflower oil
Botanical hyaluronic acid
Jojoba oil
Shea butter
Vitamin B5
Phenoxyethanol
Ethylhexylglycerin
Xanthan gum
Green tea
Citric acid
Rugged & Dapper Facial Moisturizer is a men's facial lotion that claims to help against fine lines, wrinkles, uneven skin tone, and also post-shave irritation. The peptides in the product boost collagen and elastin production and are filled with natural and organic ingredients. This seems quite promising, however, based on our research, the product seems like it may be missing a few key elements. These include the lack of at least 5 clinically proven and patented ingredients as a list of the main active ingredients in the product. As other brands contain these, we are rather concerned about this product's effectiveness.
Instructions
The product provides a matte finish and is ideal for all skin types. The product should be applied liberally as needed. It should be applied to a freshly cleansed face in the morning and the evening. For best results, the manufacturer recommends that the user use the Daily Power Scrub Facial Cleanser before applying the moisturizer.
Price
The product is available for online purchasing from the manufacturer's official website. A tube of the product which is 4 ounces will cost a total of $24.95. This is a little low. Nonetheless, the customer is not provided with the opportunity of purchasing the product in bulk depending on their need.
Guarantee
Customers are provided with a 100% satisfaction guarantee. If you are not satisfied with the product, you may return it for a full refund, regarding it is returned within 60-days. This seems like a good guarantee, however, one must return at least 50% of the original content. This makes it a weak guarantee as the manufacturer may say that you have used more than 50% of the product and refuse a refund.
Conclusion of Our Rugged & Dapper Facial Moisturizer Review
Our completed review of Rugged & Dapper Facial Moisturizer has highlighted all the important information about the product. We see that the manufacturer provides helpful usage instructions – something we really appreciate.
However, we have also come across a few aspects that seem to negatively affect the product. First of all, there seems to be a lack of ingredients that are patented and backed by credible studies. Furthermore, the manufacturer fails to indicate the active ingredients in the product. 10% of the ingredients list should consist out of active ingredients, based on our research. In addition to this, the product is priced lower than other brands and may support the fact that there are no patented ingredients. Finally, the money-back guarantee is weak and risky. For these reasons, we are unable to safely recommend the use of Rugged & Dapper Facial Moisturizer.
Top investigative research brought to you by the experts at Customer Review.