Mineral Fusion Skin-Balancing Moisturizer Review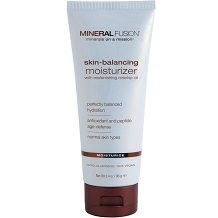 In this review, we have looked at Mineral Fusion Skin-Balancing Moisturizer. The manufacturer claims that the formula provides perfectly balanced hydration for softer, smoother skin. They also state that this product will restore your skin's youthful appearance. We have assessed the reliability of this claim by analyzing factors which contribute to its effectiveness. The information below will determine if this is the optimal moisturizing cream on the market.
Ingredients
Aloe Barbadensis Leaf Juice
Helianthus Annuus (Sunflower) Seed Oil
Vegetable Glycerin
Butyrospermum Parkii (Shea Butter)
Palmitoyl Pentapeptide-3
Tocopherol (Vitamin E)
Panthenol (Vitamin B5)
Aloe Leaf is a soothing agent that works to regenerate skin cells and repair damages to the skin. Sunflower Seed Oil is a source of Vitamin E, also found in this formula, that plays a role in reducing skin conditions and retaining moisture. Glycerin is a common ingredient as it attracts moisture for more nourished skin. Shea Butter acts as a healing agent that prevents the formation of wrinkles, dryness, and wounds. Palmitoyl Pentapeptide-3 stimulates the production of collagen which plays a direct role in the plumpness of skin. This ingredient, therefore, works to reduce the appearance of wrinkles and fine lines. Vitamin B5 has added benefits such as soothing, healing, and moisturizing properties. This list of ingredients may prove beneficial, however, the manufacturer does not stipulate which are active. There are other ingredients in the formula but we are unable to determine if they play a role in the effectiveness of this product. This is very concerning. Furthermore, the formula does not contain Vitamin C which is common to many competitor products. This would improve the product's ability to deliver optimal results. What raises further concerns is that the formula does not contain quality patented ingredients. Pentavitin and Glucare are two examples of patented ingredients found in alternative products that deliver superior moisturizing results.
Instructions
The manufacturer provides very little application information for this product. They merely state that you should smooth onto clean skin in the morning and night. This lack of information makes it difficult to determine the lifespan of each product, the amount needed per day to deliver optimal results, or precautions that may need to be taken before first application. What raises more concerns is that there is no indication of the concentrations of active ingredients. The product's strength, therefore, cannot be assessed.
Price
This product can be purchased online from the manufacturer. A 3.4 oz bottle retails for $22.99. At first glance, this may appear to be a reasonable price. That said, the price is likely due to the fact that the product omits many patented ingredients found in competitor products. Whatsmore, the manufacturer does not offer any discounts or bulk-buy deals to promote sustainable long-term use.
Guarantee
The manufacturer offers a 30-day guarantee on partially used products. This is positive to note, however, they do not clearly outline the policy on the website or if returns are subject to a restocking fee. Whatsmore, there are many negative customer reviews for this product. Some buyers have noted uncomfortable side effects to the formula while others state that it does not deliver on manufacturer claims.
Conclusion of Our Mineral Fusion Skin-Balancing Moisturizer Review
Mineral Fusion Skin-Balancing Moisturizer contains many ingredients known for their benefits to the skin. Furthermore, it is reasonably priced. That said, the product lacks patented ingredients which can be found in alternatives on the market. Another disadvantage is that there are no bulk-buy deals for cost-effective long-term use. The many negative customer reviews and vague manufacturer guarantee also contribute to our recommendation that you seek a more proven facial moisturizer.
Top investigative research brought to you by the experts at Customer Review.