Cleure Facial Lotion Review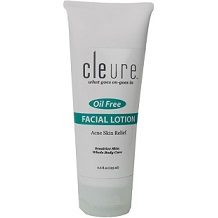 Today we will take a look at a product called Cleure Facial Lotion. Many people struggle with oily skin and prevent using a moisturizer as it clogs up the pores. For this reason, the manufacturer has produced an oil free facial moisturizer that is formulated to help moisturize the skin without over drying it or clogging the pores. To find out more about the ingredients and added benefits offered by Cleure Facial Lotion, read our full review below.
Ingredients
Purified Water
Isopropyl Palmitate
Cyclomethicone
Cetearyl Alcohol
Glyceryl Stearate
Hydroxyethylcellulose
Ethylhexylglycerin
Phenoxyethanol
Disodium EDTA
Tocopheryl Acetate (gluten free)
MFA Complex (salicylate free)
Cleure Facial Lotion claims that this product can help hydrate, tighten, and moisturize sensitive skin, whilst also improving the tone and texture of the skin. It is however unfortunate that the product does not seem to contain any patented ingredients that have been backed by credible research. In addition to this, we fail to find the main active ingredients in the product. There is also a lack of vitamin C, vitamin E, Almond oil, and Shea Butter, just to name a few. We find this to be a problem as many other brands provide these ingredients and aspects.
Instructions
The usage instructions provided by the manufacturer state that the user apply the product all over the face after cleansing with Cleure's Face & Body Wash or their Glycerine Face & Body Wash. These are not very clear instructions, as the manufacturer does not state when the best time of day the product should be applied and how much product to use. Also, the cream does not come in an airtight pump bottle which is much more convenient to use.
Price
Each tube costs a total of $39.00. This is an okay price, however, there are no discounts made available and also no bundle deals. This may make it difficult for certain individuals to purchase each month.
Guarantee
There is a 30-day money-back guarantee offered by the manufacturer. However, they state that most items may be returned for a full refund. They do not state which items these are and thus may cause the manufacturer to refuse your request of a return. This may indicate that the manufacturer is not confident in their product. Nonetheless, the customer will still be at risk.
Conclusion of Our Cleure Facial Lotion Review
We have found a few things about Cleure Facial Lotion that we like as well as a few things that we do not like. We like the fact that the manufacturer provides customer reviews and we see that individuals like the product.
Unfortunately, we do not like the fact that the product fails to provide the customer with a list of the main active ingredients, patented ingredients, as well as clinically proven ingredients. This is already a major setback and may result in an ineffective product. Furthermore, the usage instructions are not very clear. Finally, it seem like the manufacturer does not take care of their customer's needs and security with purchases. There are no discounts and the guarantee is weak. As a result, we do not recommend Cleure Facial Lotion as a safe and effective product.
Top investigative research brought to you by the experts at Customer Review.