FRE Skin Protect Me Defense Facial Moisturizer Review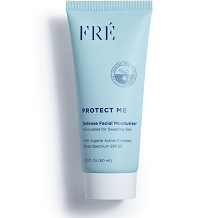 This is a review of FRE Skin Protect Me Defense Facial Moisturizer, in which we have assessed the product's ability to deliver on manufacturer claims. The manufacturer states that this hypoallergenic formula is fast-absorbing and will not clog pores or sting eyes. They also claim that it will shield your skin from sweat and harmful external aggressors. The information below will shed light on this product's ability to do so as well as manufacturer support to equip you with the knowledge to make an optimal product purchase.
Ingredients
Argania Active Complex
Vitamins A
Vitamin B5
Vitamin E
Chamomile flower and leaf extract
Melissa flower and leaf extract
Rooibos leaf extract
Symcalmin
Bisabolol
Symcalmin and Bisabol are known for their healing properties and play a role in reducing redness and irritation. Chamomile, Melissa, and Rooibos are packed with antioxidants and work to calm, soothe, and protect the skin. This formula contains several beneficial vitamins which are included because of their ability to prevent the damaging effects of external aggressors on the skin. They also support the production of collagen in the body which, in turn, reduces the appearance of wrinkles and fine lines. This formula contains one patented ingredient, Argania Active Complex. This ingredient is designed to combat premature aging as well as protect the skin from sun damage and dark spots. While the patent is an indication of its quality, many competitor products contain up to five patented ingredients. These alternatives may provide superior results as the patents showcase ingredient efficacy. The fact that this formula is hypoallergenic, vegan-friendly, and animal cruelty-free is positive to note, however, the lack of cGMP certification is a concern. This suggests that quality production processes may not have been adhered to.
Instructions
The manufacturer clearly stipulates how to use this product for best results. Users should apply a small amount of product to the face as needed and gently massage it until absorbed. The product is claimed to be water resistant for up to 80 minutes and can be applied post-workout. There is no indication as to the concentration of active ingredients, therefore, we cannot be sure of the strength of this formula.
Price
The product can be purchased online from FRE. A 60ml tube retails for $50. This seems an expensive price, however, the manufacturer states that this will last up to 90 days. That said, there is no way to verify this until you have made a purchase. The purchases of this product are not supported by discounts, therefore, long-term use could become costly to sustain.
Guarantee
There is a 30-day money-back guarantee for purchases of this product. This indicates a level of confidence in the product's ability to deliver optimal results, however, the policy is vague. The fact that the manufacturer regrets to indicate what condition a product should be in to be eligible for a refund renders this return policy unreliable. Furthermore, there are limited customer reviews to act as a testimony to the product efficacy.
Conclusion of Our FRE Skin Protect Me Defense Facial Moisturizer Review
There are certain appealing selling points about this product. It contains a quality patented ingredient designed to reduce premature aging and may be an affordable option. That said; long-term use is not supported by bulk-buy options, the guarantee is vague and unreliable, there are limited customer reviews for this product, and competitor formulas contain up to five patented ingredients. These are a few of the reasons why we recommend searching for an alternative product on the market.
Top investigative research brought to you by the experts at Customer Review.