Nardo's Natural Facial Moisturizer Review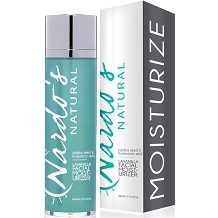 This is a review of Nardo's Natural Facial Moisturizer. This moisturizing cream is designed to nourish dry, scaly, or rough skin as well as hydrate and firm the skin. The manufacturer of the product states that it is suitable for all skin types, vegan-friendly, and animal-cruelty free. We have analyzed the product's ability to deliver effective moisturizing results to help you make an informed consumer purchase.
Ingredients
Organic Aloe Barbadensis Leaf Juice
Cocos Nucifera (Coconut) Oil
Organic Olea Europaea (Olive) Oil
Theobroma Cacao (Cocoa) Seed Butter
Tocopheryl Acetate (Vitamin E)
Panthenol (Vitamin B5)
Cyanocobalamin (Vitamin B12)
This formula contains a number of ingredients that are beneficial for the skin. Aloe Leaf is well known for its ability to soothe the skin and speed up healing processes. It works to prevent damages to the skin. Coconut Oil penetrates the skin quickly and helps regulate moisture balance. Olive Oil contains many anti-aging antioxidants as well as squalane which works to hydrate the skin. Cocoa Butter is rich in fatty acids which nourish the skin. Vitamin E is an essential ingredient because of its ability to prevent the damaging effects of external aggressors. Vitamin B5 has the ability to moisturize, soothe, health, and repair the skin. Vitamin B12 reduces skin conditions such as dryness, eczema, and hyperpigmentation. The manufacturer lists many ingredients over and above the list mentioned above. That said, they do not stipulate which ingredients are active and inactive. This means that we cannot accurately determine which ingredients are working towards the benefits of this product. What is more concerning is that this formula does not include any patented ingredients which can be found in competitor products. These patented ingredients highlight the quality of competitor formulas and may provide superior results. Despite further research, we were unable to locate a cGMP certification which would usually be held to showcase quality manufacturing processes. This is another concern.
Instructions
It is recommended that users apply a pearl-sized amount in an upward motion onto the face and neck. The product should be applied in the morning and evening, after cleansing. The manufacturer does not provide the concentrations of active ingredients supplied per application. Therefore, we cannot accurately gauge the potency of this product compared to proven competitors.
Price
A 1.7 oz bottle retails on the manufacturer's online store for $24.99. While this is not overly expensive, there are no discounts or bulk-buy deals to ensure that prolonged use is not costly. Furthermore, the price is likely accounting for the fact that the formula lacks clinically proven patented ingredients. You will find many more affordable options with proven formulas.
Guarantee
The manufacturer states that they will provide an effective product if a purchase does not live up to customer expectations. What concerns us about this supposed guarantee is that there is no information as to how long it applies or what constitutes an eligible refund. Another major concern is that there are negative customer reviews for this product. Many have reported allergies to the formula or that it had no effect.
Conclusion of Our Nardo's Natural Facial Moisturizer Review
From this review of Nardo's Natural Facial Moisturizer, we can see a few positive factors. The formula contains several beneficial ingredients for the skin and the product is competitively priced. These factors aside, there are many disadvantages. The formula does not contain any patented ingredients. There are no bulk-buy deals to encourage long-term use. The manufacturer guarantee is extremely vague and unreliable. There are several negative customer reviews stating that the product induces negative side effects and/or does not work as claimed. Therefore, we cannot recommend this product.
Top investigative research brought to you by the experts at Customer Review.