Nancy Boy Replenishing Facial Moisturizer Review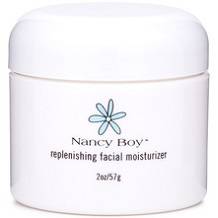 The following is a review of the product Replenishing Facial Moisturizer, by Nancy Boy, claiming that this skincare product can penetrate the skin speedily. In addition, the manufacturer of this product claims that it regulates oil production, especially in oily-skin types. Furthermore, the company claims that this product is able to offer all-day hydration, particularly for dry skin. Continue reading for more about this product. Learn the real facts about this product: the ingredients, the price, the guarantee, and the instructions of how to use this product.
Ingredients
Purified water
Caprylic/capric triglyceride
Cetyl alcohol
Cetearyl olivate
Sorbitan olivate cucumber hydrosol
Lemon peel essential oil
Allantoin
Tea tree essential oil
Corn oil
Vegetable glycerine
Dimethicone
Caprylyl glycol (from coconuts)
Sodium benzoate
Xanthan gum
Phenoxyethanol
Vitamins D3
Vitamin E
Vitamin E and shea butter nourish the skin, whereas vitamin E repairs skin damage. Vitamin D3 is the active form of vitamin D which heals the skin by repairing skin cells. Cucumber cools and hydrates the skin. This product lacks patented and clinically proven ingredients. This is a concern as such ingredients indicate a quality product. The product is paraben-free, phthalates-free, and contains no artificial colors or fragrances. However, not all the ingredients are all-natural.
Instructions
User instructions on the company website are unclear. A potential client needs such information to gauge whether the product will work with their lifestyle, before committing to a purchase.
Price
This product is presented in 2-ounce (57g) bottles which are available online at $27.00. The manufacturer of this product offers the consumer no discounts nor any bulk offers which would not only have saved consumers money, but would have rewarded them for their loyalty.
Guarantee
The manufacturer Nancy Boy does not offer any guarantee on these products nor will the company repay the shipping fee on returns. The company will only replace a product that has been damaged. There should be proof offered of damage. However, the lack of a guarantee could imply that there might be a problem with the product's efficiency, or that the company has insufficient confidence in their product.
Conclusion of Our Replenishing Facial Moisturizer Review
The product Replenishing Facial Moisturizer appears acceptable. This product is paraben-free, phthalates-free, and contains no artificial colors or fragrances. It includes many ingredients that could be useful to the end-user. However, instructions are not clearly stated. The company does not offer a manufacturer's guarantee to protect the purchaser, who could react negatively to the product and its ingredients. This company also does not offer discounts nor any package deals which would not only have saved the user money over the long term but would have rewarded them for their loyalty. There should also be mentioned that there are many other competitive products on the marketplace that offer better products. This as they have firm guarantees, very attractive package deals with discounts that can help consumers save money over the long term, but also clear and succinct information on their website as well as easy to use instructions thereby allowing the consumer to reach optimal results.
Top investigative research brought to you by the experts at Customer Review.