GarciBurn Garcinia Cambogia Review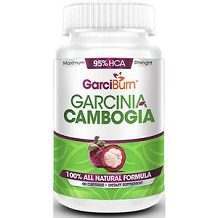 Boasting a high hydroxycitric acid (HCA) content, GarciBurn Garcinia Cambogia is one of the many supplements in a crowded marketplace that depend on the extract of the Asian plant Garcinia cambogia to drive weight loss. According to the manufacturer it contains the highest amount of HCA among competing products and will help you achieve more significant success in shedding body fat. The company also notes that it is not a new player on the scene, having been around for years. Here is our GarciBurn Garcinia Cambogia review to help you determine if this product is as effective as claimed and is right for you.
Ingredients
The formula contains the following ingredients:
Obviously, the most important constituent of GarciBurn Garcinia Cambogia is the Garcinia cambogia extract. This has the highest HCA concentration we have seen, at 95%! HCA purportedly does the work when talking about the efficacy of the pumpkin-like Asian fruit for weight loss. It is said to help suppress appetite, burn fat and prevent fat storage in the body. The manufacturer claims GarciBurn is more effective than rivals with lower HCA content. It says the potassium included increases absorption of the main active ingredient, while chromium helps to boost your energy.
Dosage
The recommendation is to take two capsules together, once a day with a full glass of water, 20-30 minutes before a meal .
Possible Side Effects
This is a natural weight loss supplement, so for most people it should be safe when used correctly. However, Garcinia cambogia has been known to cause nausea, digestive tract discomfort, and headaches. It is important to first seek advice from a doctor if you have underlying medical conditions, are pregnant, lactating or on prescription drugs.
Price
As of the time of writing, you could buy a bottle of GarciBurn Garcinia Cambogia containing 90 capsules (6-week supply) for $48. Discounts were available for the purchase of three or six bottles ($40 and $33 per bottle, respectively). The multi-bottle packages include free shipping.
Guarantee
Your purchase of this supplement is covered with a 30-day, money-back guarantee. You will need to obtain a return authorization number from the manufacturer before returning your product and you will be charged a $5 restocking fee per unit returned.
Conclusion of Our GarciBurn Garcinia Cambogia Review
GarciBurn may help you achieve some weight loss. The high HCA content, combined with potassium, gives room for optimism on efficacy. However, with no customer reviews available there is no way to gauge the efficacy from real-world users. We're also concerned by the return policy (too short to really test the product, and expensive with the restocking fee). And the price of this supplement on the high side, even with the discounts. We think you can do better in terms of price and return policy. So, check out another one of our reviews, Garcinia Cambogia Premium review for a better alternative.
Top investigative research brought to you by the experts at Customer Review.