Naturewise Garcinia Cambogia Review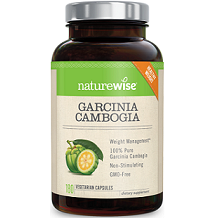 Garcinia cambogia is making huge waves as a natural, plant-based supplement for weight loss. Garcinia cambogia's active ingredient is hydroxycitric acid (HCA) which has been shown to block the formation of fat cells and work as an appetite suppressant. Here we review Naturewise Garcinia Cambogia to investigate their claims of this miraculous product.
Ingredients
Naturewise Garcinia Cambogia extract contains 60% Hydroxycitric acid (HCA). This is a relatively low percentage of HCA. We have found other brands which contain 80-90% HCA. Other brands will usually also include an ingredient, such as potassium, in order to aid the absorption of Garcinia cambogia.
We do like that this is a vegan product and is free of gluten, dairy, soy, corn, tree nuts, peanuts, eggs and shellfish. In addition, it is bottled in the USA and is GMP certified.
Dosage
The minimum dosage is one pill taken three times per day. The absolute maximum dosage is a serving of three pills taken three times per day. This comes out to 9 pills daily. Each capsule should be taken with water, 30 minutes to 2 hours before meals.
After reading many reviews, the most successful weight-loss stories were from people who recommended taking 9 pills daily. This would mean one bottle will only last for 20 days as opposed to the entire month.
Possible Side Effects
As with any natural supplement, possible side effects are entirely subjective. Some people have experienced the following undesirable effects:
Loose stool
Headache
Nausea
Anxiety
In addition, the label clearly states that if you have any medical conditions, allergies, or if you are taking medication or pregnant or nursing, you should speak with your doctor before taking this product.
Price
The manufacturer does sell directly from their website, which is convenient. You can expect to pay $39.99 for one bottle of 180 pills. It's worth it to check on third-party sites as we found it for $10 less on Amazon.
Guarantee
We are impressed with their return policy. You can return their product for a full refund if you are not satisfied. There is no time limit on this policy. In addition, they will even accept returns if you bought it from a third-party website.
Conclusion of Our Naturewise Garcinia Cambogia Review
After reading clinical studies and many personal accounts, we are confident in our Naturewise Garcinia Cambogia review.
We believe the garcinia cambogia extract is a natural answer to weight loss. We like that this product is GMP certified, non-GMO and made in the USA.  We are also impressed by the return policy Naturewise Garcinia Cambogia offers and the fact that you can get good deals on third-party websites. However, in order to achieve optimal weight loss, garcinia cambogia should be combined with an absorbing agent and have a higher concentration of HCA. People who take this product recommend taking 9 pills per day which comes out to more than one bottle per month. This must be taken into account when comparing supplement purchases online.
Top investigative research brought to you by the experts at Customer Review.